Cosplayer of the Year 2017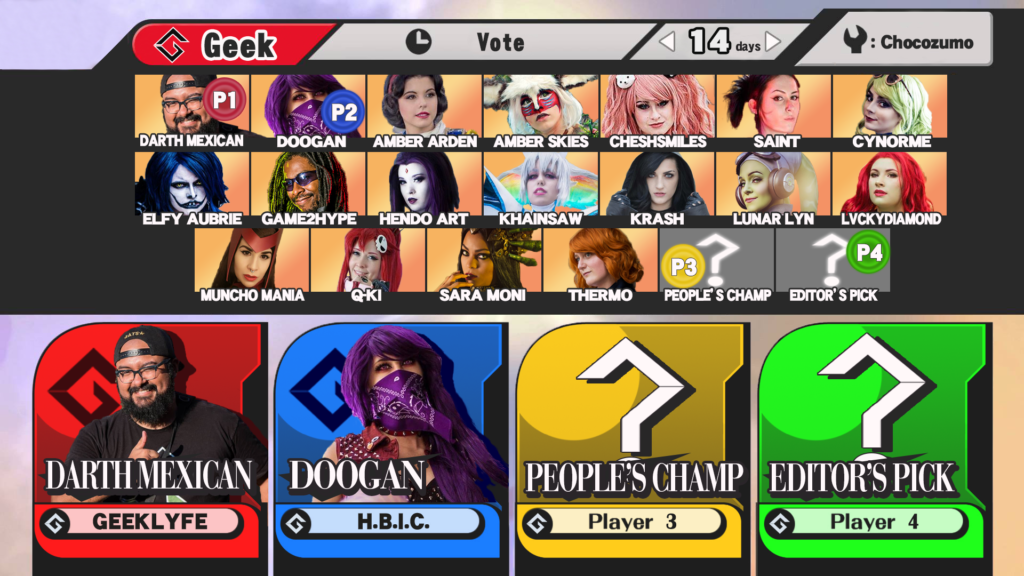 Here at The Geek Lyfe, we love cosplay and know that every single cosplayer is fantastic in their own way. However, out of the various cosplayers we have interviewed in the past, we thought it would be a great idea to have Cosplayers of the Year! Above image was created by the fantastic Chocozumo!
These few are folks who put their heart and soul in their work. Social media likes be damned! It is the quality of work, the amount of new cosplays debuted, character, creativity, and the courage to do things they aren't used to that makes a cosplayer great!
We worked hard to reduce a great list of costumers consisting of around 65+, down to only 15. Two of these cosplayers were hand picked by Darth Mexican and Deegan Marie from 2016 to participate because they knocked it out of the park with their cosplays and could not be denied! These two cosplayers are Amber Skies and Sara Moni. At the end of the day, all of these cosplayers are wonderful! This entire event is to highlight tremendous cosplayers and their achievements, in the year of 2017. Even though there are only two winners, every single one of them is a champion!
Our two awards are People's Champ and Editor's Pick. The People's Champ award is open to the public. They are invited to vote for three cosplayers they think deserve the award! Please keep in mind their quality, quantity, integrity, and originality when voting.
The Editor's Pick is done behind the scenes by staff. We will discuss which of these 15 cosplayers is our personal favorite and should be followed in 2018 because we know just how fantastic they were, are, or will be!
Voting ends on the 23rd of February and winners are announced on February 24th! If the winner is located in Arizona, they will get free access to all of our photography events this year and a Geek Lyfe shirt of their choice. If the winner is located outside of Arizona they will receive $100 and a Geek Lyfe shirt of their choice!
While we do want to reward our winners for their hard work last year, the main purpose here is really to promote these incredible cosplayers. They all deserve your follow, and it would mean the world to them. They will no doubt accomplish so much in this coming year that you will not want to miss out!
Here's some intense menu music to listen to while choosing!
Time To Vote!
Because there are so many cosplayers, we've given you 3 votes! Check the box for the cosplayers you believe deserve to win and then punch that 'Vote' button! Be sure to also check out these fantastic cosplayers at their social media pages!