Horror Cosplay Shoot Was Spoopy and Spectacular!
What happens when you have a convention drought in Arizona, talented photographers, fantastic cosplayers, and a crazy person(Me)? Well you get an event focused on great photo shoots in a unique location that offers the chance for cosplayers and photographers to meet one another as well as cosplayers and other cosplayers to help network and make new friends. All the while The Geek Lyfe is on site helping folks get what they need and meeting folks from the community.
For our Horror Cosplay Event we secured the location of Fear Farm which is a local seasonal establishment focused on scaring customers with various sets, actors, and effects. This would not have been made possible without the help from one of the participating photographers, Courtex Studios! We reached out to our friends, Tony Julius, Courtex Studios, Mort Productions, Chocozumo, and our own Deegan Marie Photography to be our designated photographers. A number of cosplayers rushed to join in on the event and we had such a blast!
One of the many great aspects of Fear Farm was the various aesthetics each location offered. In it's natural state, Fear Farm has five different locations from a clown mad house, a sci fi experimental site, slaughterhouse, an old western aesthetic, a corn field maze that leads to abandon vehicles and more. The event was like a playground to costumers and photographers alike as every single turn was a new possibility for a shoot.
During the event there were a few mishaps that I had completely not anticipated! One was the fact that there were 0 outlets on location, second was that we used the church set as our home base which saved us from the sun but still left a stuffy atmosphere. When night came we all realized that not a single one of us brought lanterns or flashlights. Sure enough, everyone adapted to every situation by whipping out their phones as flashlights to make sure their makeup and photo shoots were on point!
At the end of the event the staff took a group photo and a a good portion of them met for Dennys to celebrate!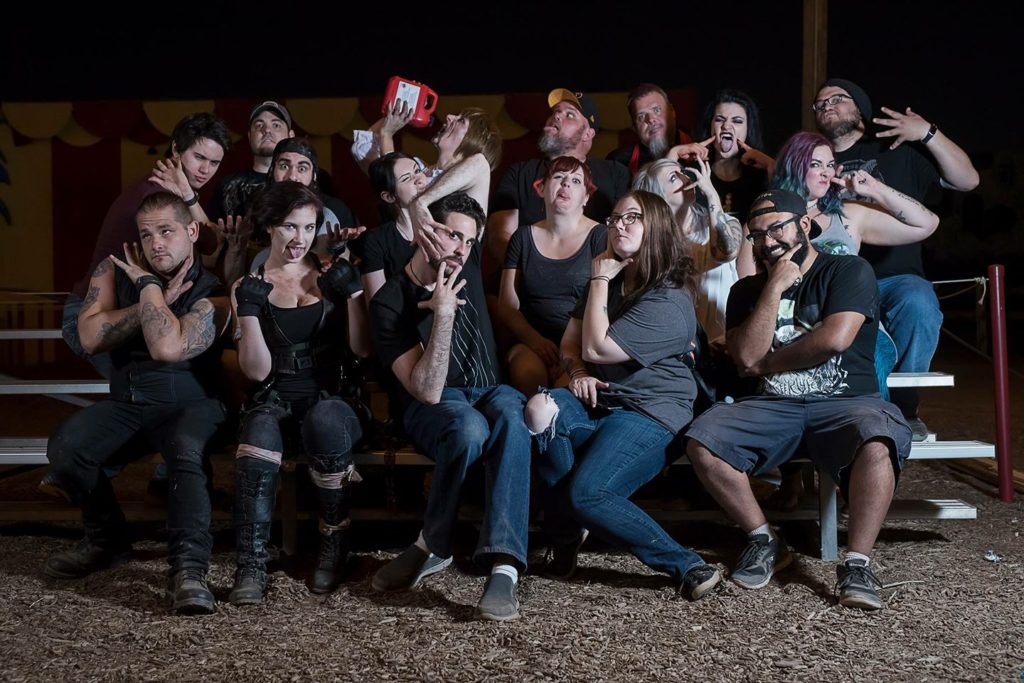 I want to take a moment to say thank you so very much to everyone who came to our event, helped with the event, promoted the event, and so much more. It is such a blessing to be surrounded but such fine men and women who just constantly produce fantastic works of art. Whether they be new to the scene or veterans, having the courage to create something and present it is wonderful. My breast swells with pride knowing that I had a hand in helping bring folks together to make one of a kind photos.
I thank each and every person who believes in our website and I swear to always do my very best to continue to create events that help bring a positive impact to our community. It is my hope that after our events end and the conventions begin you bump into your fellow cosplayers or photographers who participated in our shoots make new friends. Slowly but surely those cliques that exist in the scene will fade into a community where no one ever feels out of place or alone.
We look forward to seeing everyone at our future events!