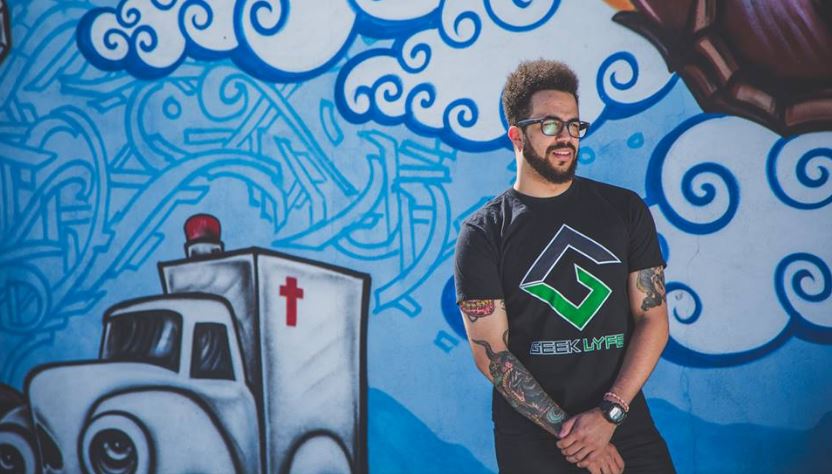 Interested in applying to be apart of The Geek Lyfe? Did you want to be a featured Cosplayer of the Week? Looking to promote your business via an article or purchase ad space? Feel free to check out more information on these processes before emailing us! It'll help save both of us time to see if working together would be a great fit!
The Geek Lyfe Staff
Currently The Geek Lyfe has content creators on staff including writers, photographers, editors, and more. I should warn you now that none of us get paid a dime for everything we do. We put our blood, sweat, and tears into this website because we believe in bringing fellow geeks content that will inspire or entertain them for the better. Through different methods we do bring in some small amount of money but this gets turned around and spent on new equipment or convention costs for staff. I will note that we have been recognized by most conventions as Press and have been given badges.
We are looking to bring on content creators from anywhere other than Phoenix, Arizona. We do have staff in California and in the UK but their numbers are small and could most definitely use more help. You'll be expected to create a piece of content(Video, Article, Twitch, Interview, Review etc.) at least twice a month, attend meetings as often as you can, and help out if you are able with events in your area. A working PC or Mac that has access to semi good internet would be ideal that way you can attend Discord meetings.
If you'd like additional information or would like to reach out to us for an interview, feel free to email us at Darthmexican@thegeeklyfe.com with information on yourself and why you believe you'd be a great fit to be on staff.
The proper subject line for this would be Application – <Your Name> – The Geek Lyfe.
Cosplayer of the Week
We are always looking for awesome cosplayers to feature on our website and welcome everyone! Our requirements for Cosplayer of the Week are as simple as having an active social media page, having more than one cosplay completed, and being a positive member of the community. We frown upon costumers who publicly shame others in any way, shape, or form. As long as you are chill, we would love to feature you for all our fans to see!
To submit your Cosplay profile, email us at Darthmexican@thegeeklyfe.com with your social media account(s) and a few photos so we can use them for the article with photography credit. We'll get back to you as soon as we can with our questions!
The proper subject line for this would be COTW – <Your Cosplay Name> – The Geek Lyfe.
Promotions
Helping spread the news about how wonderful our fellow geeks are is a major foundation of our website! If you are interested on having your business, event, or anything reviewed or covered you can email us about it and pitch us why we should be interested! As long as your content is in no way oppressive, illegal, or anything in between we'd be more than happy to spread the word! Just to clear any minds, The Geek Lyfe does support content creators of the adult nature whether it be Suicide Girls, Cosplay Deviants, Hentai artists etc. As long as it is relevant to geeky interests, it's cool with us!
If you'd like to purchase ad space on our website, we are open to the idea. Feel free to email us at Darthmexican@thegeeklyfe.com and submit your pitch and we'll go from there. The proper subject line for this would be Promotions – <Your Business Name> – The Geek Lyfe.
Want to Submit an Article?
Have a great idea for an article but no where to publish it? We'd be more than happy to check out your writing and even help edit it!