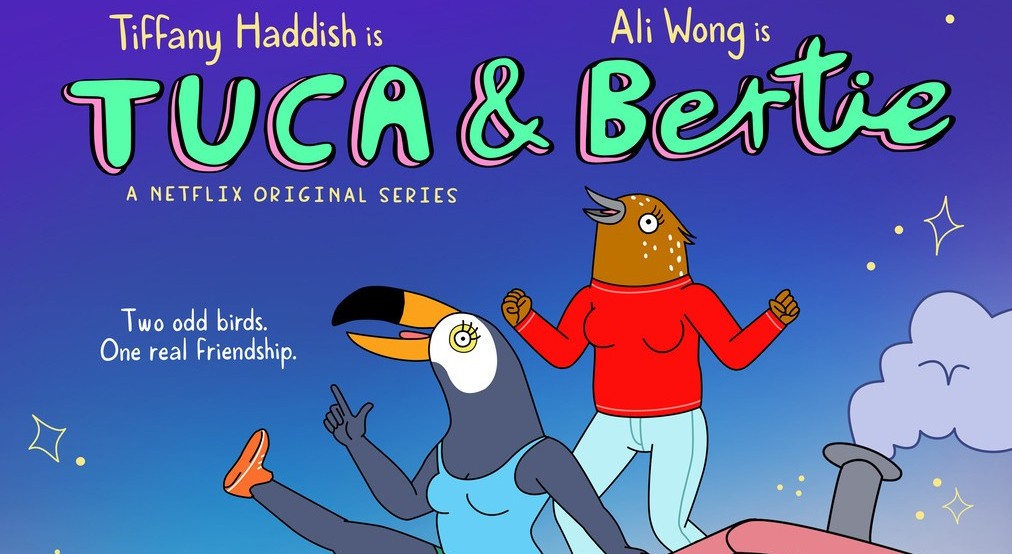 As a long time fan of Bojack Horseman, I was excited to hear the creators had been working on a project that would be released during the dry spell between season five and six. While Raphael Bob-Waksberg was an executive producer on both shows, he was not the lead creator of Tuca and Bertie, and it shows.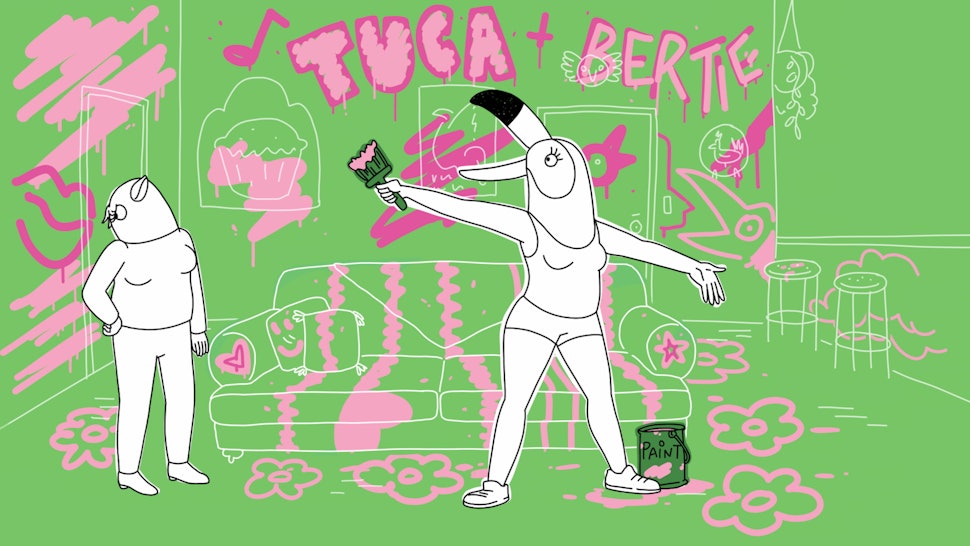 Initial Thoughts
Tuca and Bertie has a top notch voice cast and soundtrack reminiscent of spring break in the late 2000s. It is a lively and surreal show that illustrates in the first two minutes that nothing and no one can be trusted, as the viewer is unable to determine the difference between fantasy and reality. While initially this seems to be an allusion to children's animation, such as Chowder or The Marvelous Misadventures of Flapjack, it is a deliberate design choice that plays to the larger themes explored by the show.
Characters
The audience follows two title characters as they struggle to find the balance between individual identity and adult responsibility. Tuca, voiced by the lovely Tiffany Haddish, is a wild child tucan who has to make the difficult decision between her usual escapist behavior and growing up with the friends she cares about. The catalyst of this change is when Bertie, Tuca's best friend and long time roommate, asks her to move out so she can share her apartment with her boyfriend. It's especially refreshing to see this type of character actively try to improve while still maintaining zany comedic qualities.
Tuca's story line is somewhat overshadowed by her Bertie's battle with anxiety and trust issues. As an audience Bertie's story lines, while relatable, come off as repetitive and overbearing. That said, I would have to say it is a fairly realistic portrayal of the cycle of frustration and guilt many people with anxiety suffer from and how intrusive it can be for day to day life. Outside of this she is a caring and sweet song thrush with big dreams and humble beginnings.
I do wish more time was devoted toward Speckles, Bertie's robin paramour and debatably, the only male protagonist. Speckles is a fairly successful architect and reminiscent of a chill Ted Mosby from How I Met Your Mother. He does fairly well as a supportive, witty boyfriend and provides a fair amount of wholesome comic relief. I would love to see more of his life outside of the one he shares with the female leads. Unfortunately, his story line comes off as an afterthought, beginning just as the first season comes to a close.
Pros
The show is a vibrant and engaging work of animation with oodles of background gags. It utilizes a variety of animation styles including claymation, puppetry, and stop motion. The soundtrack is a nonstop party anthem and I'm dying for it to get released on Itunes. The characters are well balanced and I'm excited to see an animated sitcom where the protagonist's boss is genuinely a good guy! It's chocked full of positive messages about responsibility and healthy personal relationships.
Cons
I can only think of 3 named male characters in the entire series that weren't deliberately written to be creepy and antagonistic. It reached the point where I was desensitized and bored anytime someone started getting harassed on screen, even when it caused a recently introduced character to leave the narrative. I understand it was building up to a poignant climax, but with minimal thematic variety, it lost its impact. The show also introduces plant people, whose designs have virtually no way to emote, they're quite literally plants with appendages.
Over All Impression
Tuca and Bertie has a lot of potential, and I hope to see more of it in the future. A majority of this season was spent establishing and exploring the lives of the title characters, like many others in the same genre. It's esoteric nature may deter audiences expecting a reskin of Bojack Horseman, but Tuca and Bertie's optimistic narrative is just what we need. I look forward to seeing how the three main characters develop and what new adventures await them.