Annabelle: Creation Is Frickin Terrifying(Review)
Alright so lets just get this out of the way right now: I am a 220lb bearded man who has done boxing and works out regularly and I don't do well with horror films. I jump, yelp, curse, grab the person closest to me and hold onto them for dear life and watch the film through my hands. That being said, I have seen my fair share of horror films because I am sick and enjoy being abused. I honestly did not think much initially of Annabelle and thought a sequel to the franchise would be of lesser quality.
Holy shit was I wrong.
Annabelle: Creation was a fantastic horror film. No, I take that back, it was a great film in general. Why was it so good? Lets jump right in!
Cinematography
I adore the camera work in all horror films because they know how a film is supposed to be shot and then implement awkward angles to instill unease in the viewer. they did a whole lot of that in Annabelle: Creation! In some films they shoot a majority of the scenes in a standard symmetrical style having the main actor be front and center with the background blurred. Then when something odd occurs, they introduce the unsettling angle of having the actor be on the far right while the background has complete clarity which adds a sense of dread that something will happen behind the character.
WELL, In Annabelle: Creation they do this so many times and a lot of them were false alarms that you just had no idea when something terrible was going to happen. So you either kept yourself in this state of constant anxiety and over reacted to nothing or relaxed which left you vulnerable to terrible sights and freaked you out even more. There really just was no winning with this film.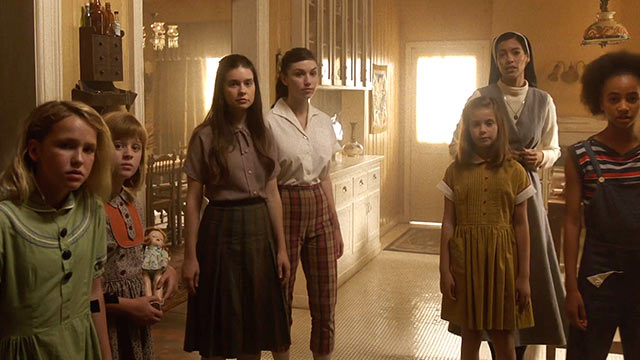 Acting
There were a lot of actors in Annabelle: Creation and they ranged from being young to older and some had plenty of films under their belt while others were new to acting. Every single actor did such a great job in this film that I was surprised. The main character, Janice played by Talitha Bateman , was the sweetest little girl who suffered from a disability. When that girl needed to show fear, appreciation, happiness, sadness, frustration or anything else she nailed it so hard. When situations became dire and the worst was brought out in everyone, they gaveit their all to be fierce, brave, violent and so much more!
For relying so much on younger actors, they did such a great job!
Horror
Annabelle: Creation exceled at being terrifying. Having a creepy doll be the main villain was already a huge lead for being scary but then you add the build of tension with false alarms and then spring something unexpected out onto the characters, especially the strongest. The biggest scare I had was one that was forced where a character rushes into a room to confront the beast and witnesses absolute horror as the enemy they feared for so long became even more powerful. The scene was slow yet made you witness the ever growing evil and then the main character had to confront it with what feeble strength they had. The thought of being so overwhelmed and outmatched is a terrifying thought but even worse when the character flees for their life with the beast being so close.
The writers held no punches as they picked on the one character with physical issues in both her mind, body, and soul. It was so sad to watch them terrorize the poor girl but that ruthlessness only made the horror so much worse, especially when her cries for help went unanswered and she had no choice but to face the beast alone.
Plot
The story of Annabelle: Creation is a seemingly perfect family suffers a terrible loss when their daughter passes away. Twelve years later they open their giant home to a group of orphans and a nun who is charged with keeping them safe and teaching them. One girl, Janice, quickly realizes something is terribly wrong with the home and stumbles upon a doll. Chaos ensues over the next few days as they try and deny anything wrong until the evil takes one life after another. Soon enough they do whatever it takes to survive the horrors of the house, there is no true cure for this madness, only to run and find help.
Overall
The film was great! I enjoyed the horror of being in a rural area and although there were quite a few people, they still got picked on while isolated and to make matters worse, it took place in a time without modern technology such as cell phones. The entire situation was terrifying and they did such a great job of dragging viewers through that experience. I want to give a shout out to Red Rebel Angel for going with me to the screening, I literally watched a majority of the film through my fingers while she watched it like a champ!
If you enjoy horror, I highly recommend this film! It will be a great time!