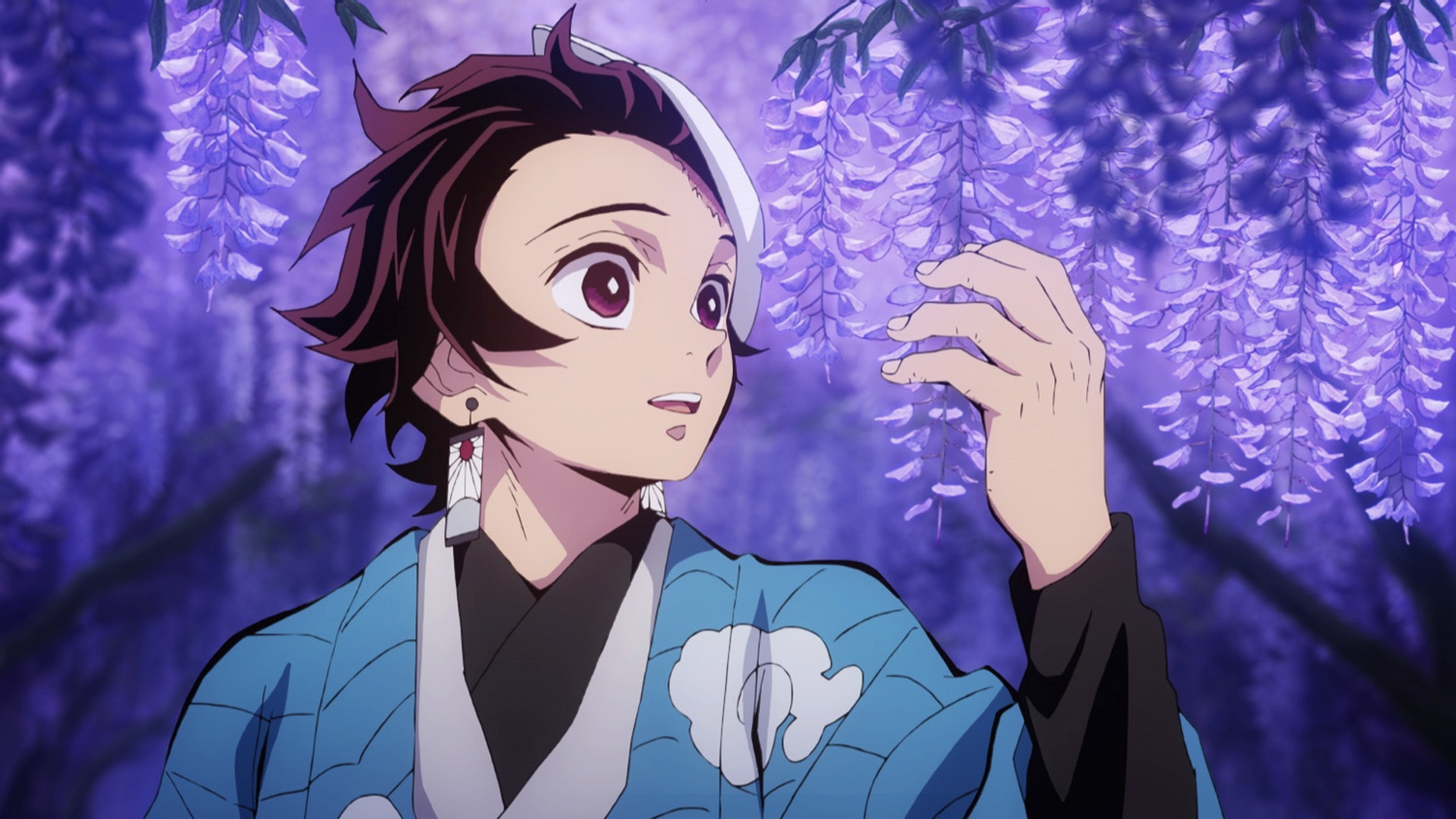 "Demon Slayer -Kimetsu no Yaiba- The Movie: Mugen Train" Streaming Today on Crunchyroll
The widely popular anime series Demon Slayer: Kimetsu no Yaiba Tanjiro Kamado, Unwavering Resolve Arc (in additional languages) and the record-breaking global phenomenon Demon Slayer -Kimetsu no Yaiba- The Movie: Mugen Train comes to Crunchyroll subscribers for the first time starting today.
The series and film will be available in English, Spanish, and Portuguese in English-speaking countries; and in Spanish and Portuguese in Latin America — both in subtitles and dubs. The series will also be available in French-, German- and Russian-speaking countries as well as the Nordics. The film will also be available in French- and Russian-speaking countries as well as the Nordics.
The Demon Slayer: Kimetsu no Yaiba TV series premiered in 2019 and is based on Koyoharu Gotoge's manga, which boasts over 150 million copies in circulation in Japan. Demon Slayer: Kimetsu no Yaiba is an action-packed, thrilling tale of a young man, Tanjiro, in search of a cure for his sister, who has been turned into a demon after their family is viciously slaughtered by demons.
Demon Slayer -Kimetsu no Yaiba- The Movie: Mugen Train is directed by Haruo Sotozaki featuring the original story by Koyoharu Gotoge with screenplay and animation production by studio ufotable. Set after the events of the television series, Demon Slayer -Kimetsu no Yaiba- The Movie: Mugen Train has Tanjiro, Nezuko, Zenitsu, and Inosuke embark on a new mission. Together with one of the most powerful swordsmen of the Demon Slayer Corps, Flame Hashira Kyojuro Rengoku, they investigate the mysterious disappearance of over 40 people aboard the Mugen Train.
The critically acclaimed Demon Slayer -Kimetsu no Yaiba- The Movie: Mugen Train earned over $470 million globally at the box office becoming the #1 film worldwide in 2020, the first non-Hollywood, non-U.S. film to achieve this. The film opened in the U.S. and Canada on April 23 as the #1 Foreign-Language film debut in U.S. box office history and hitting #1 at the box office the second week of release, earning more than $49 million+ to date.
For more information on Demon Slayer -Kimetsu no Yaiba- The Movie: Mugen Train, visit demonslayer-anime.com and follow the official Facebook and Twitter.
About Aniplex of America Inc.
Aniplex of America, Inc. (Santa Monica, California) is a subsidiary of Aniplex, Inc. (headquartered in Tokyo, Japan), a division of Sony Music Entertainment (Japan), Inc., and a leading provider of anime content and music production and distribution in Japan. The company's ever-growing lineup of shows includes: Sword Art Online, FULLMETAL ALCHEMIST: BROTHERHOOD, Fate/stay night [Unlimited Blade Works], Fate/Zero, KILL la KILL, Gurren Lagann, Monogatari series, Anohana -The Flower We Saw That Day-, Cells at Work!, The Promised Neverland, Demon Slayer: Kimetsu no Yaiba, The Millionaire Detective – Balance: UNLIMITED, and many more. In 2017, the company released the English version of the popular mobile game, Fate/Grand Order.
About Crunchyroll
Crunchyroll connects anime and manga fans across 200+ countries and territories through the content they love. Best known as a top streaming service delivering AVOD and SVOD content, Crunchyroll also provides experiences to deepen fan engagement and community through social, events, games, consumer products, content distribution, content creation, and manga publishing.
Fans have access to one of the largest collections of licensed anime through Crunchyroll, Anime Digital Network (in partnership with Citel, a subsidiary of Média-Participations), and Anime on Demand video streaming services, translated in multiple languages for viewers worldwide. Viewers can also access simulcasts — top series available immediately after Japanese broadcast. Crunchyroll's services also extend to licensing of theatrical, TV, home video, consumer product, and video game rights.
Fans engage further with events (including owned events Crunchyroll Expo, Anime Awards, Crunchyroll Movie Nights, KAZÉ Anime Nights), consumer products through eCommerce and retail partners (Crunchyroll, KAZÉ, AV Visionen), Crunchyroll Games, KAZÉ Games, and manga (KAZÉ Manga, Crunchyroll Manga app, Crunchyroll Manga Store).
Crunchyroll was founded in 2006 and is headquartered in San Francisco, with offices in Los Angeles, Tokyo, Paris, Lausanne, Chisinau, and Berlin (AV Visionen). VRV (U.S.) and Eye See Movies (Germany) are also Crunchyroll brands. Crunchyroll joined the Funimation Global Group in August 2021 to bring even more anime to more fans worldwide.