RuPaul's Drag Con 2017 Review
Written by Emma Roberts aka Heartless Aquarius
Hello everyone! Heartless Aquarius here with another convention review! This one is going to be a little different. Instead of covering a convention based on comics, gaming, or anime, we are
diving into the world of drag! I attended the third annual RuPaul's Drag Con 2017. After the show RuPaul's Drag Race gained immense support and popularity over the past eight years, RuPaul in collaboration with World of Wonder Productions, started a convention dedicated to drag culture. It is currently the world's largest drag culture convention.
This convention was a blast! I got to see so many drag queens who appeared on Drag Race as well as be surrounded by so many creative people. I saw so many different brands of makeup, wigs, costumes, clothes, and shoes. As a cosplayer, it was amazing to see all of these things in one place! Also, as a fan of the show Drag Race, it was fun to meet the queens face to face.
I think a wide range of people would have a great time at DragCon. If you're a makeup artist, you can explore new makeup brands, swatch all of their products, and get inspired by all of the intricate looks the queens and other attendees have created. Costumers and hair stylists would also have the same experiences with the variety of clothing and wig booths. Non drag race fans can have fun at the convention. My parents, who weren't huge fans of Drag Race, had a fun time being surrounded by drag culture since we don't have a strong drag presence in Arizona.
Also, they had a large kids area where they had an inflatable bounce house, story time, and coloring!
The staff were well organized and friendly throughout the event. While there was definitely a large number of people at the convention, I felt they kept everything running smooth while also making sure the attendees had an enjoyable time.
I have mixed feelings about the venue. The Los Angeles Convention Center has wonderful amounts of space, easy access to a variety of food options, and strong air conditioning. However, the parking options are limited and commuting through downtown LA is never a pleasant experience.
I am for sure going again next year. Not only was it amazing to meet some of my makeup and performing idols, but I also got to be surrounded by a group of the most creative, talented, and accepting people. If you are a creative person, enjoy makeup, or just want to have a fun time around people of all walks of life, I highly suggest you attend it one day!
The convention cost $30 per day per adult. Since the convention is only two days long, it would total out to $60 for the whole weekend. Personally, I find the price reasonable considering that the convention was held in the Los Angeles Convention Center, the amount of star power!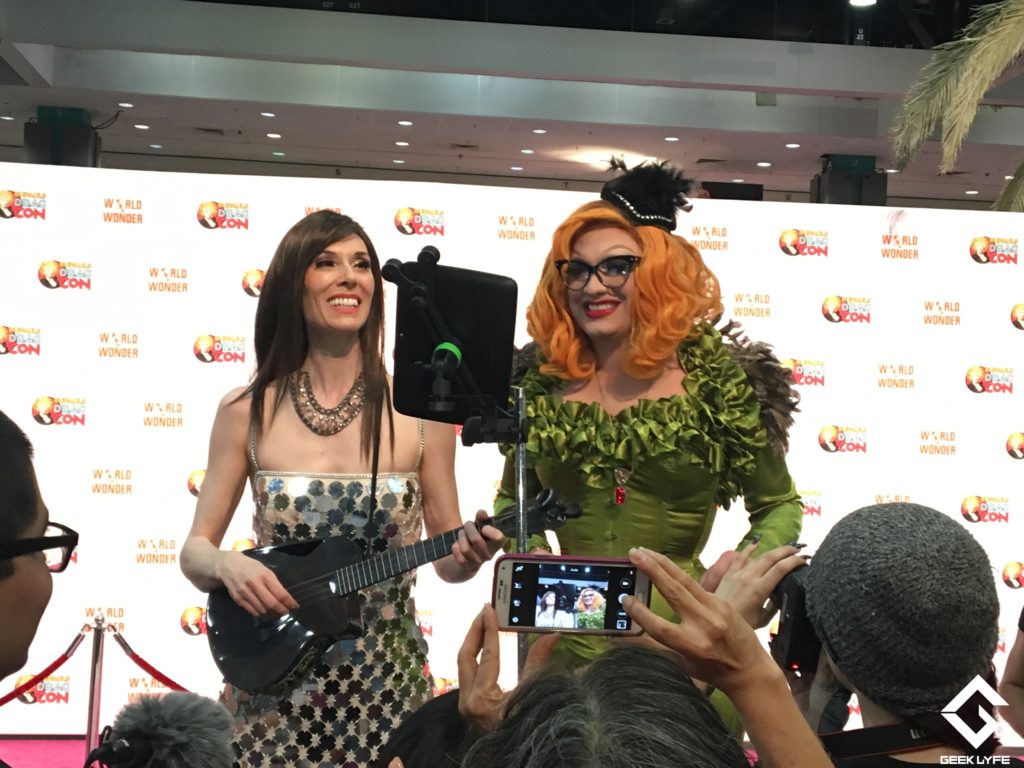 Overall, RuPaul's Drag Con 2017 was a fantastic event filled with incredible vendors, guests, events, and for the low price of $60 for the entire weekend, it was definitely worth it! If you are a fan of Drag then I can not recommend attending Drag Con enough! Be sure to check out more information at http://rupaulsdragcon.com/ and if you are interested in checking out more of me, check out https://www.facebook.com/HeartlessAquarius/!
Pros
Great entertainment
Wide variety of booths and guests
Easy to meet the guests at the con
Free charging stations for your phone
Fun panels
Cons
Only two days long
LA traffic and inconvenience to drive and park at the convention center