With Hallowe'en out of the way and the nights drawing in, we've all had a taste of spooky season and some of us want more. When gaming, it can be fun getting stuck into cute and cuddly titles, but it can be just as much fun giving yourself a bit of a fright. We've collected some of our favorite spooky titles that are available to play online. We've got some that are just a little ghoulish, some that are pretty scary, and one that is downright terrifying. So, put your big boy pants on, it's time to play some seriously spooky games.
Friday The 13th The Game
This game is definitely the scariest of the lot, so be warned if you're of a slightly nervous disposition. You'll begin the game as a well-intentioned camp counselor, who is visiting the camp in order to help out the people there. Trouble begins when both camp attendees and counselors realise that Jason Voorhees is on a one-man mission to kill everybody at the camp. It's going to be tough, but you've got to escape the camp through any means necessary if you want to make it through the game alive.
Your wards are quicker on their feet than Jason, but he's got some seriously devious tricks to help his plan go ahead uninterrupted. As a counselor, you're wily and clever, but you'll still need to be a strategic gamer to escape. You can team up with your friends to try and escape together online, which can make the whole experience just a little less terrifying. The interface between players works really well in Friday the 13th The Game and Jason is still pretty frightening, even with your gaming friends for company.
Money Monsters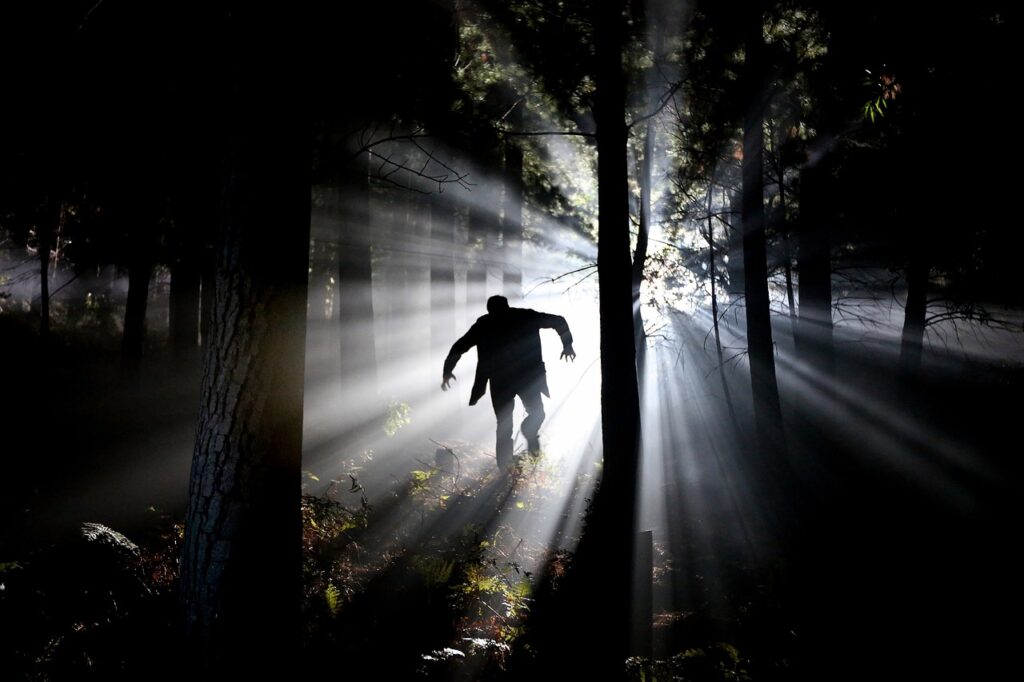 Caption: Frankenstein's Monster is the protagonist of this slot game
If you enjoy playing games from the slots online genre then Money Monsters is without a doubt the spookiest choice you could make. This game puts a plethora of classic Hallowe'en characters onto the reels. Spin them and try to match Frankenstein's Monster, Dracula, werewolves, mummies, and more. This game is on the other end of the spectrum to Friday the 13th The Game in that, whilst the characters are a little spooky, they certainly won't be frightening even the wimpiest of players. Instead, they have a cute cartoon feel that's a little Hallowe'eny in flavor, but by no means terrifying.
The backdrop to this game is a doctor's laboratory, that same doctor who brought his monster to life. It's up to you to try to keep the monsters under control, whilst trying to win a little money at the same time too. This slot works just like most classic slots, with five reels, giving you a maximum of 25 pay lines. The amount that you win is determined by the different symbols, with the brain, adventurer, monster and city symbols giving the biggest wins, but also being the rarest in the game.
Cultic
We've already dedicated a whole article to this game, but it really deserves as many mentions as possible. Cultic is a terrifying new title from 3D Realms that promises to thrill you in the most old-school style possible. This game begins with death, so at least you don't have that to fear! You'll start by crawling out of your grave and will need to use your wits, your strength and a whole arsenal of explosives to fight your way out of a cult.
There's plenty of running, ducking, sliding and dodging involved in typical old-school shooter style, which retro gaming fans will really enjoy. With that said, the makers have cleverly included the option to lay traps and wait for those who prefer a less chaotic gaming experience. There's currently only one chapter, but it's a big one. You can play your way through ten whole maps and, once you've done that, you can move onto Survival Mode for an even bigger challenge. The developers have already made plans for a Chapter Two, which will be released as downloadable content, enabling you to keep the terror going even longer.