Postmodern Jukebox: 5 Song Starter Kit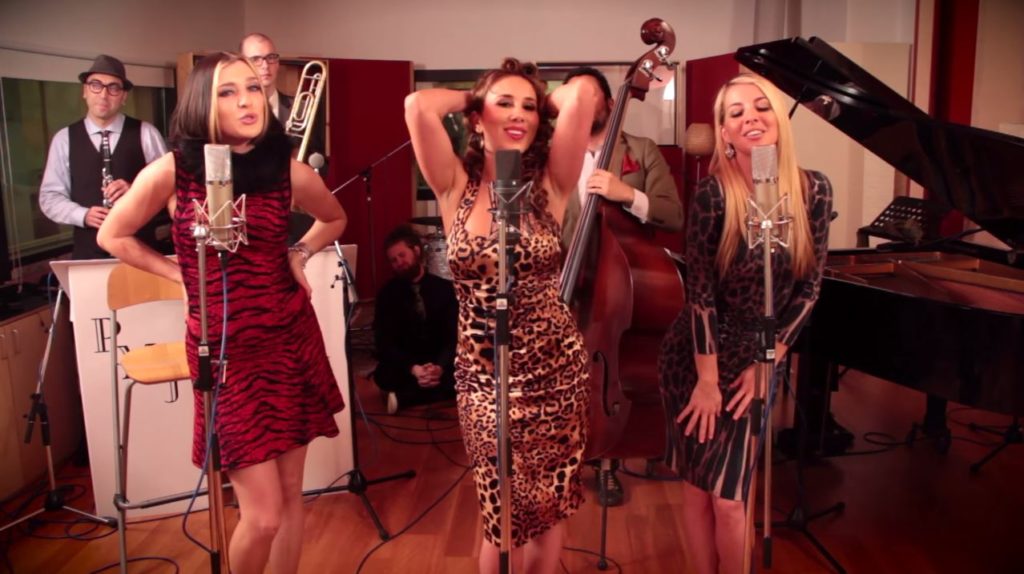 Postmodern Jukebox: 5 Song Starter Kit
It is my firm belief that most songs on the radio nowadays is of a lesser quality than it's predecessors by quite a bit. Feel free to argue with me, but that is my humble opinion. However, not all is lost! A knight in shining armor by the name of Postmodern Jukebox has stepped in to generate new content of a superb quality. If you have never heard of Postmodern Jukebox, then let me tell you that is a breath of fresh air.
The work of Scott Bradlee & Postmodern Jukebox has been viewed on the ensemble's YouTube channel well over a hundred million times. Most of those doing the viewing, however, are not fully aware of the method to Bradlee's madness.

On the surface, the method is video – clips of full-band performances (that's Bradlee on piano) shot in the bandleader's living room with a single stationary camera. The madness: pop hits of the present performed à la pop hits of the past. Miley Cyrus' "We Can't Stop" assayed as a doo-wop number; Macklemore and Ryan Lewis' "Thrift Shop" tricked out in flapper jazz; Sam Smith's "Stay With Me" rendered a 1940s big-band standard.

In fact, Bradlee's method runs deeper. He's educating his audience about 20th-century song styles; he's commenting on the elasticity of the pop form; he's confounding cultural context; he's uniting generations; he's breaking the rules. He's manifesting postmodernist ideas in his approach to production and business as well as music. But as far as the fans are concerned, it's just fun (and sometimes funny). Bradlee himself will tell you, simply, "I reimagine a song in another style because I want to hear it that way." – VIA postmodernjukebox.com
This is a list of 5 songs that I believe will make anyone unfamiliar with Postmodern Jukebox into instant fans. Now, there are a ton of videos that are incredible but I'll only be choosing one song per singer that way the list isn't congested with just Haley Reinhart and Ariana Savalas. This is in now way the best of the best but simply a good starter set to show you what PMJ is about and what you can expect from them.
Blank Space – Vintage Cabaret – Style Taylor Swift Cover ft. Ariana Savalas
Ariana Savalas is one of my all time favorite Postmodern Jukebox singers. Obviously she is a talented singer, equipped with a classic voice, and she is beautiful like every member of Postmodern Jukebox. So on and so forth with the basics, but her biggest strength is her stage presence, the way she moves her body from the tip of her fingers all the way down to her feet are tools she uses to entice viewers and the crowd. This is a skill that other Post Modern Jukebox performers lack, since you are new to Post Modern Jukebox, it's good to have you meet the woman who is queen at this trait!
2. Lovefool – Vintage Jazz Cardigans Cover ft. Haley Reinhart
Haley Reinhart is the knock out start to join Postmodern Jukebox, she was once a contestant on American Idol and did quite well but fortunately did not win. I say fortunately because she was able to join Postmodern Jukebox and kick ass at every song she is given, using her Ella Fitzgerald-like voice to command you to swoon at every lyric. You'll see quite a few videos of Haley, and for good reason! She is among the best Post Modern Jukebox has to offer and it is undeniable. She is most famous for her cover of Creep, I chose not to include it in this list because over 9 million people have seen it so I thought it'd be best to show some love for her other videos!
3. This Must Be The Place (Naive Melody) – Vintage 1940s Swing Talking Heads Cover ft. Sara Niemietz
Sara Niemietz has only sang one song for Postmodern Jukebox but it is without a doubt one of the best. As opposed to the other singers of Postmodern Jukebox, she has a much more subtle style of singing. Yes, when she needs to bring it home, she is capable of doing so but the wonderful thing about her is that she doesn't need to do this, her strength is in her ability to flirt while singing, it sounds weird but watching the video you can see her playfully singing by singing loud and proud then dipping into a more quiet tone. I seriously hope Sara gets more videos but until then, this is awesome and should be watched for sure!
4. We Can't Stop – Vintage 1950's Doo Wop Miley Cyrus Cover ft. The Tee – Tones
This is the video that really kick started everything, just a small band and a few singers. Robyn Anderson covers Miley Cyrus' We Can't Stop and makes it golden. I actually heard the Postmodern Jukebox version before the original and can not stand the original version anymore. It perfectly embodies what Post Modern Jukebox is all about, talented folks taking a mainstream song that is forgettable and turning it into a classic. Robyn was Postmodern Jukebox's main singer for quite a while until they gained popularity and brought on more singers but forever and a day will Robyn and her cover of We Can't Stop stand the test of time and as someone who is new to the Youtube Channel should definitely give it a listen!
5. I'm Not the Only One – Vintage New Orleans – Style Sam Smith Cover ft. Casey Abrams
The blessing and the curse of Postmodern Jukebox is that they have an overwhelming amount of talented female singers but I personally feel as though the guys don't get enough love. For our final recommendation for new listeners of Post Modern Jukebox, I have to give it to Casey Abrams. Like Haley, Casey was from American Idol and fortunately did not win! He joined Post Modern Jukebox and was on a few songs, his soulful voice adds a lot of charm to the covers as does his skills with the bass. Every song he is apart of is super fun and awesome. As a new listener, check him out and you won't be disappointed!
Well, there you have it! 5 songs for getting into Post Modern Jukebox, as I said before, there are plenty more songs that are all super great and worth your time but these were just a few so you can get a feel for what Post Modern Jukebox is all about.
Already listen to PMJ? What is your favorite song?