UPDATE 2/7/2019
– We got to interview the creator of the series,Finch! You can find her interview in the middle of the article!
There I was, on a chill January Friday night, browsing twitter, as I usually do. When my eyes beheld a glorious sight: a fantasy RPG where you play as birds! This fantastic concept is called Bird Empire and you need to know about this.
Bird Empire is a pixel RPG style game. The Bird Empire has fallen on dire times after the succession of King Midas. The greedy, kleptomaniac king has hoarded all money and left the empire to fall into ruin. The birds begin to get restless. A revolution begins and Hero, a young cockatiel, just kicked out of home, is scouted.

Hero must scout out help and together, journey to the capital to confront King Midas, all while facing the dangers the journey brings.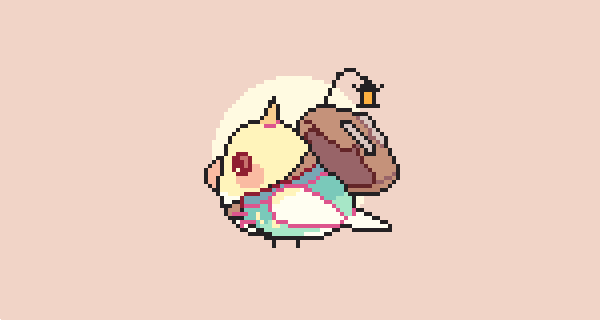 Bird Empire is currently being funded by Patreon support. The creator, Antoinette, shares a wealth of behind the scenes content to supporters and fans alike! At this current moment, it is being developed to be played on PC.
We actually got to interview her!
The Geek Lyfe: There may be a few Geek Lyfers who have not seen your work before, would you be alright introducing yourself?
Finch: Hello! My name is Antoinette, I also go by Finch. I am a self taught kiwi artist who loves birds and drawing cute things. I own 10 zebra finches. This is my first ever game project.
The Geek Lyfe: What is Bird Empire?
Finch: Bird Empire is an RPG style pixel game being developed for PC use. Players play as Hero, a silver cockatiel pressured into joining a revolution to overthrow the money hungry magpie king, King Midas. Through the game three more soft and round birds join the party. Game play focuses mostly on item gathering, crafting, exploration and meandering side quests.
The Geek Lyfe: How did you come up with the concept of Bird Empire and why did you want to pursue this?
Finch: The story isn't actually all that inspiring… My personal twitter handle is @birbempire and one day while waiting for my dad in a car I thought it'd be awesome to have a twitter header art based on that name. The concept for that was a castle wall scene. After drawing a sketch for that I thought 'damn this awesome, it'd be cool to make a world out of this' and it all sort of spiraled from there. I'm very motivated by birds
The Geek Lyfe: What is the current estimated completion date?
Finch: Nope. This is my first time doing anything of this scale and my first time in game dev too. I struggle a lot with mental illness that gets in the way of things a lot… Bird Empire is 'in my spare time and when I feel well enough' project
The Geek Lyfe: When you aren't doing game development, what do you do in your spare time?
Finch: More pixel art. I'm also studying graphic design right now. Patting every cat I can see
The Geek Lyfe: Up until this point, what has been the aspect that you personally feel is the most challenging?
Finch: Organization and time management. I've never had a greattttt handle on time management and I feel way too often that I'm too slow at working. It's easy to picture things in my head and not so easy to explain it to other people or organize a group for it haha. Animation is a horrible process too
The Geek Lyfe: What is one piece of advice that you wish someone had told you when you first started this project?
Finch: Do a smaller project first, try out a game jam or something like that. There were like 498295 aspects to game making I had no idea about until I started
The Geek Lyfe: Where can we find you online and how can we best support you and Bird Empire?
Finch: I post semi-regular updates on twitter and tumblr. I also post WIPs and dev stuff more regularly on patreon. Patreon support means a lot to me, it helps fund my rent and more birdy content.
Accidentally deleted the first posts, here they are again! The main party members. Extremely cute. Extremely round

Please consider supporting this game project on https://t.co/NtrBWyKETu #birdempire #gamedev #indiedev pic.twitter.com/rK0c9qavbc

— Project Bird Empire (@probirdempire) January 25, 2019

Bird Empire is so stinking adorable that we couldn't help but fund it ourselves! We have reached out for additional information on the game and will continue reporting as more information comes out!
For now, make sure to check out all they have to offer on Tumblr and Patreon!