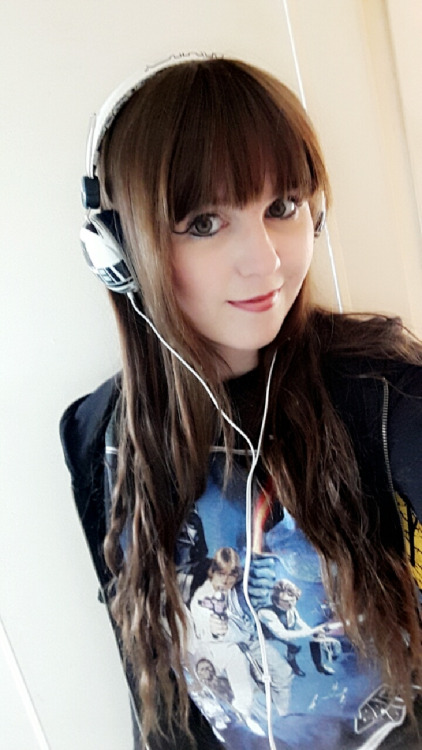 The First Geek Girl Brunch in Brighton
On Saturday, despite the humid and somewhat rainy weather, I ventured into Brighton for the first ever Geek Girl Brunch. As their website says, 'Geek Girl Brunch is an international meetup group of ladies who geek out together, usually when mimosas are involved.'
Here is their website > http://geekgirlbrunch.com/
And a link to the original founding post! > http://www.girlgonegeekblog.com
This week's theme was everything Harry Potter, which meant a Harry Potter themed dress code if you wanted, games and prizes! I was a little nervous, having only seen the films and not read the books…yes bad me.
We gathered at Cafe Noor, a lovely cafe despite being at the top of a very steep hill, lit with dangling light bulbs and beautifully decorated.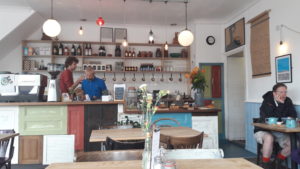 Though there was a minimum card spend, and a small group of us, there was no doubt an air of magic and friendliness.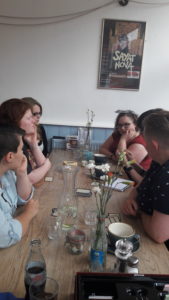 The first game was Harry Potter themed trivial pursuit with different levels of difficulty. Luckily for me I had arrived late due to work and got to watch while munching on my pastry. Prizes included badges, a film cell from the movies, Hermione Yule Ball funko pop and stickers!
The next game was a board game of Harry Potter Destination. Players are given three cards and must race to their destinations in order to collect house points, most points win!
It was a great game, surprisingly tense, and one I would definitely recommend! (Though take out the card that says you get expelled if you pick it up because that was shocking for poor Hermione and no fun at all)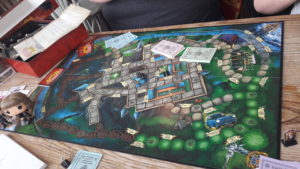 You can buy it here below, but I would still shop around for the cheapest price > https://www.amazon.co.uk/gp/offer-listing/B001LPHK56/ref=sr_1_2_olp?ie=UTF8&qid=1466970877&sr=8-2&keywords=harry+potter+destination&condition=used
So after our games and a Hermione Pop Funko figure for me, we were off to Dave's Comics in The Laines for some perusing. Dave's Comics is one of my favourite places in Brighton, and definitely worth visiting if you're new in town!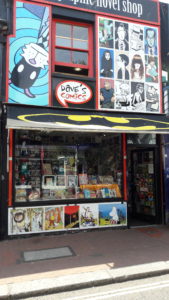 Onward from there we went in search of a cake shop not completely full to bursting, racing against the ever darkening skies, and found a cafe selling peach iced tea and canolis! Perfect! (I can't remember the name! I will take a picture of it next time I'm passing through.)
Though our primary session was coming to a close we also went and saw Independence Day: Resurgence! (8/10 review coming) It was very good and to top it all off we saw Iron Man on the way home! Gotta love Brighton!
Our next session will most likely be the 15th/16th of July, still in Brighton and we will be off to see the new Ghost Busters movie! I am very excited – feel free to message me if it sounds like you're kinda thing and you'd like more information!
FreeplayFrenchie