Top Five Comics for New Comic Readers
So you want to start reading comics, eh?
First off, welcome! Welcome to the wonderful, rich and vibrant world of comic books and graphic novels. That glorious world, though, can be intimidating to someone who only so far has danced along the fringes of it. Going to your local comic book store is a daunting experience for someone just dipping their toes into the comic book pool. Where to even begin? Which character to start with? DC or Marvel? You mean there's MORE publishers than that too?!
Let's pump those breaks and take a deep breath… The beauty of trying to decide which comic to read first is that there's quite literally no wrong answer. Certainly there are more advantageous series to begin with – issues that won't leave you feeling half-confused and wondering what in the hell you just read, but it is all very much personal preference. In fact, given the nature of art in comics I highly encourage everyone to judge these books by their covers. If the style of art on the cover grabs you, it's very likely you'll enjoy the tone of art throughout the entire series.
As a general rule of thumb, I recommend starting with a character you're already curious about or perhaps already love. The Marvel and DC Cinematic Universes have introduced a plethora of heroes and villains to everyone, not to mention the films that would surprise you with their comic book origin stories. It is no doubt one of those rascals that piqued your interest into picking up a comic to begin with so trust your instincts. Once you pick out a character that interests you, I'd recommend starting with whatever series is currently running featuring that character. This is a natural point you can use to dive right on in to the comic world as it currently is. Often times, newer series will also leave references to past issues, giving you something to go back and read later as well.
Still confused on where to begin? Have too many characters you're intrigued by or maybe you want something more off the beaten path – something you've never heard of so as to avoid natural biases? Not to worry, Ashtastic has you covered! See below my list of Top Five Comics for New Comic Readers – some of my personal favorite issues/series that will leave you craving for more…
Top Five Comics for New Comic Readers:
1.) Hawkeye vs. Deadpool (2014)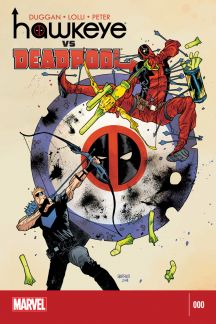 With the success of the new Deadpool movie I've no doubt there are many dying to learn more about the Merc with a Mouth. A comic book character can go through several incarnations (good guy, bad guy, etc.) and Deadpool is no different. He's come a long way since his first appearance in New Mutants 98, but undoubtedly one of my favorite incarnations is Gerry Duggan and James Harren's Hawkeye vs. Deadpool. Not only do you get all the quips, humor and bad-assery, but this series features a facet of Deadpool's personality not always seen or, indeed, taken for granted by characters and readers alike. Strap yourselves on (I mean IN!) for one wild ride!
2.)This Damned Band (2015)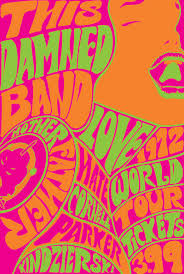 Perhaps you want to try something completely fresh…? Want a break from superheroes and want to see what lurks beyond the quintessential cliché for comics? Look no further than Paul Cornell and Tony Parker's This Damned Band. When I was fortunate enough to meet Cornell at Phoenix Comicon 2015, he described the upcoming release of this series as, "Spinal Tap meets accidental devil worshippers," and it's as hysterical as it sounds. An excellent blend of humor and edginess – This Damned Band hits all the right notes!
3.)Grayson (2014)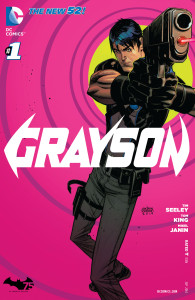 I confess I'm terribly biased with this series. Growing up I fancied Robin/Nightwing so anything featuring Dick Grayson is a win in my book. Peeling back the rose-tinted glasses of my girlhood crush, though, still leaves a series that's been surprise hit. When thinking of the Boy Wonder, you don't picture Batman's protégé as a secret agent wielding – of all things! – a gun, something the Bats is notoriously against. Like with any good spy agency, however, this series proved to be more than what it appeared on the surface. Humor, action and intrigue – Grayson is a smash hit for anyone wanting to delve into comics.
4.)Saga (2012)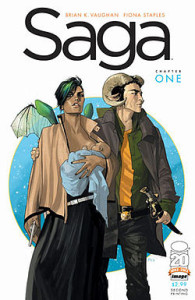 Personally, I was late to the Saga party but better late than never! Brian K. Vaughan and Fiona Staples' series reads like an epic fantasy odyssey, seamlessly blending elements from Star Wars with classical works from the likes of William Shakespeare. Its progressive portrayals of gender and race roles is all-encompassing and something the series is well noted for. Not only is Saga beyond entertaining to read but it is thought provoking, never shying away from potentially controversial themes. It truly is a saga for those who choose to embark on it and will change your concept of comic books forever.
5.)Spider-Gwen (2015)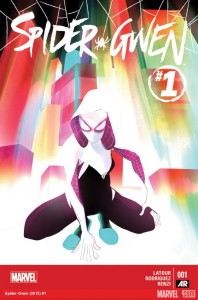 Okay – I know what you're thinking and I saved this for last because of it. Even if you haven't read comics I'm sure you're well aware that Gwen Stacy was never bitten by a radioactive spider. More to the point, her death in the Amazing Spider-Man series is renowned for one of the most shocking moments in comic book history… So how in the world did this series come about and why should anyone read it? What-If series are well known in the comic book industry and not everyone is a fan. I confess to being right picky about mine but there is a certain creativity to them that I admire if pulled off and it's particularly compelling reading about Gwen Stacy, the girl bitten by a radioactive spider and who couldn't save her boyfriend Peter Parker from dying. Stan Lee is well on record having never wanted to kill her character off to begin with and there is something beautifully poignant in exploring her what-if origins… Action, classic quips and a dash on sentimentality, Spider-Gwen promises to melt the most crotchety of hearts of even those most staunchly opposed to what-if stories.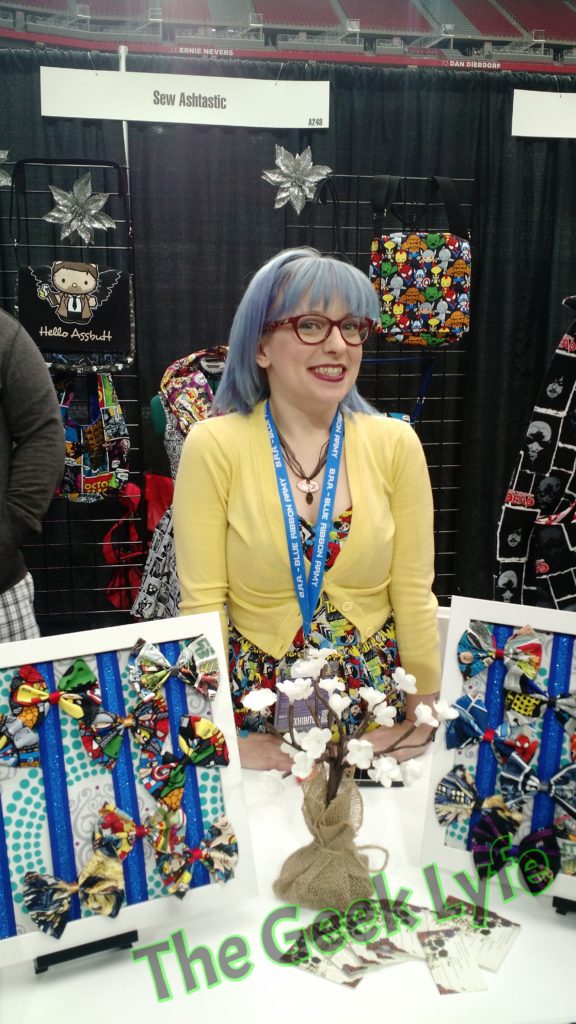 These series are amazing in both art and story, showing a unique and diverse look of comics today that will be sure to get you reading and keep you hooked. Given the sheer mass of comics out there, though, this barely scratches the surface of recommendations and in classic #comicbooknerd fashion, I wrestled with narrowing it down to only five. Life is filled with tough choices, my friends…
So hit me up and comment below with which one you'll try! Where are my established comic readers at? What would you change or add to the list?
Inquiring minds want to know!