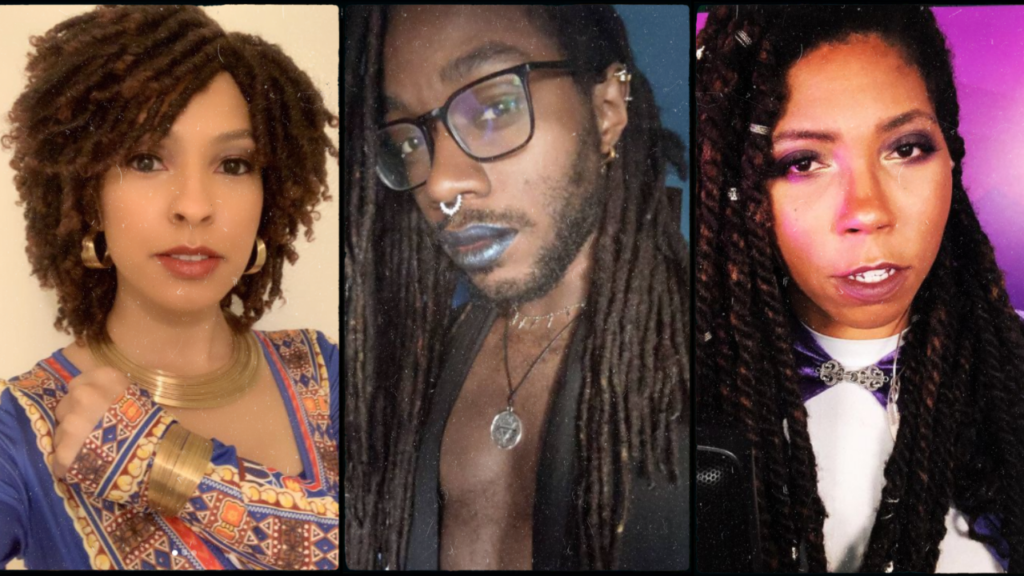 20 Great Black TTRPG Performers to Follow in 2021!
Black History Month is here and I am stoked to be able to share with all of you some of my favorite creators! These are 20 Table Top RPG writers, performers, game masters, and more that I have known for some time and adore! They literally inspire me with their creativity and dedication to their craft. If you want great content, absolutely follow them!
Keep an eye out for more articles on Podcasts, Streamers, and more!
If you missed backing either of my projects:#Electropunk: Children of the Future graphic novel
Dear America, from a Black Guy documentary
You still can! The Indiegogo link for the documentary is still live, and you can pick up Electropunk here:https://t.co/WLy0OgrOQ2 #funded https://t.co/ZQ7DKuRzJS

— B. Dave Walters: Revolutionary Content Creator (@BDaveWalters) September 22, 2020
So excited to bring pro wrestler Tyg Taboo to our Oops! All Monks! game this evening! Tune in and raise money for a great cause!!! https://t.co/2kMsU3y4im pic.twitter.com/NmcfttVCZk

— TK Johnson (@tkjoinsthefray) February 7, 2021
Come and join us today for Oops! All Monks 30 minutes as we raise money for @NAACP_LDF!

We have some incredible giveaways lined up, and of course, phenomenal casts that you won't want to miss. I'm so excited!@tkjoinsthefray@humanhouseplant@kissofhemlock

DM: @JoshuaMSimons pic.twitter.com/dQQQULrBij

— Michael Sinclair II AKA LichDaddy (@MichaelCrits) February 7, 2021
Where to find & support your local Cypher ?️‍? ⚔️?

Repped by @bridgesixglobal

?https://t.co/WisNmdyXCK
?https://t.co/puYegEk4VG
?https://t.co/FQKDsnxCxH
?https://t.co/7pUN2tbBOq
☕️https://t.co/ihYNsivYH3
✍️?https://t.co/XKrjAg00Dv
?tanya@cypheroftyr.com pic.twitter.com/M5jKMOxnVe

— Tanya, Openly Black, Villainous Deathbane (@cypheroftyr) January 14, 2021
We're two hours out from PART TWO of our @worldbuilders level 20 game on https://t.co/R0pklkq6DA!

I KNOW I'll see you all there, so start gathering your snacks and sips and we'll see you soon! ? pic.twitter.com/PYRgzCy5td

— Aabria Iyengar (@quiddie) January 30, 2021
View this post on Instagram
View this post on Instagram
Birthday? I thought you said Bob-day. Just kidding, every day is Bob Day. https://t.co/9zURsIMamd

— Krystina Arielle ? (@KrystinaArielle) January 30, 2021
Here to play and here to stay!

I'm Gabe. Game designer, writer, voice actor, cosplayer, DM, and streamer. No more sitting and waiting for it to happen so let's take some of the magic in the world and use it to make something amazing!

All my links here! https://t.co/z0TYUcgX2T pic.twitter.com/HMfqooqFKe

— Gabe (I-Am-Black-History) Hicks (@GabeJamesGames) June 3, 2020
AND WE ARE LIVE!

Come join myself, @march1studios, @aaronarted, @Shauntelleb, @greenleafgeek, and DM @JoshuaMSimons as we get our Warlock on!

Raising money for @NAACP_LDF!
JOIN US! | ?: https://t.co/ZX6GEcZR60! pic.twitter.com/W8WmlK0I42

— CRITICAL BARD! ✊? (@CriticalBard) February 7, 2021
New Year! New Pinned Tweet! – Hello all, I'm Honey aka Honey and Dice. By day I am a cyber security professional who dabbles in acting and VO, by night my superhero personal is a giggling #ttrpg GM and everybody's biggest cheerleader who loves to love. 1/6

— honeyanddice (@honeyanddice) January 5, 2021
I am so friggin' excited for this game.

The chemistry during the session zero fucking ruled, and I promise you don't wanna miss this!

Also, it supports the Trevor Project—so entertaining AND meaningful! ❤️ https://t.co/lGF9c3ACl2

— Persephiroth: SEASON 2 OF FAST TIMES IS OUT (@Persephiroth) February 2, 2021
Howdy there! I'm Austin! I'm a freelance game writer & designer, TTRPG streamer, and podcaster! If I'm not up to one of those things I'm probably working my day job as a therapist. You'll find current projects in this thread along w/past work and ways to support! pic.twitter.com/hrk8gA6GVM

— ✨Sailor Scout Austin✨ (blk year round) (@sailorsctaustin) January 11, 2021
The new Kids on Bikes actual play starring @ShareefJackson, @markeiamccarty, @TheNoirEnigma and @HapaBarbarian starts next week! We can hardly wait.

Get the rulebook on the Marketplace for everything you need to run your own game or just follow along: https://t.co/4apRfbpCMe pic.twitter.com/q9qBjoHrqi

— Roll20 (@roll20app) February 7, 2021
With 11 nat 20s, that's $55 donated to the @NAACP_LDF! Go check out their next stream, which is Oops! All Monks and starts in 20 minutes or so! https://t.co/m4vvfsR8Yd

— Shauntelling you to be kind to yourself (@Shauntelleb) February 7, 2021
Stepping into #BlackHistoryMonth with great memories of my #Wakanda game with this amazing people.
You can still catch this #blackexcellence on our YouTube channel!https://t.co/p1cRWoGi1f https://t.co/2PVIouEi5L

— Gdubb005 Black And Proud✊? (@G_Dubbz05) February 3, 2021
A couple years back I did 28 days of Black Legends in Magic. Now, I have this to share. Happy Black History Month y'all! https://t.co/mSgEqlzVAa #Wotcstaff #BlackHistoryMonth #mtg #BlackLivesMatter

— Sydney Adams (@Raini_Fro) February 4, 2021
My streaming schedule for the month!

I'll post below more details about the shows and where you can find them.

If you want to support me:https://t.co/TEaY1WruqChttps://t.co/H3hPdt7Ddk

Support your black content creators
Not just for black history month
We're not a commodity pic.twitter.com/uH6Ta7KBID

— Bee Zelda (@Bee_Zelda) February 5, 2021
So today, 3 very cool exciting related things are happening—

*It's the official launch of the Fandom Tabletop @twitch channel

*We're starting a #DragonPrince inspired campaign on Role & Keep

and
*@CortexRPG officially releases the Dragon Prince RPG & setting, Tales of Xadia!! https://t.co/kbYwtbqIaQ

— Aliza "revolution, after this nap" Pearl (she/her) (@AlizaPearl) February 4, 2021
? Welcome to Three Black Halflings ?

We promote melanin, inclusion & inspiration in the TTRPG world all whilst laughing uncontrollably. ?

Link here to our Podcasts, Twitch, Patreon, Discord & more: https://t.co/R0HPyNWuCp

Give us a retweet if you like what we do ? pic.twitter.com/6gqVagCMoH

— Three Black Halflings A Dungeons & Dragons Podcast (@TBHalflings) December 1, 2020
-Bonus!-
I shared it with backers last night, and now ya'll get to see it as well.

A preview of the layout for Welcome to Tikor.#BlackHistoryMonth #afrofuturism pic.twitter.com/QLiqA0389t

— Swordsfall – BHM is Every Month on Tikor (@Swordsfall1) February 8, 2021
Manifestations are Key
This year, I will publish my book.

— Jay Casual (@Casual_Campbell) January 1, 2021