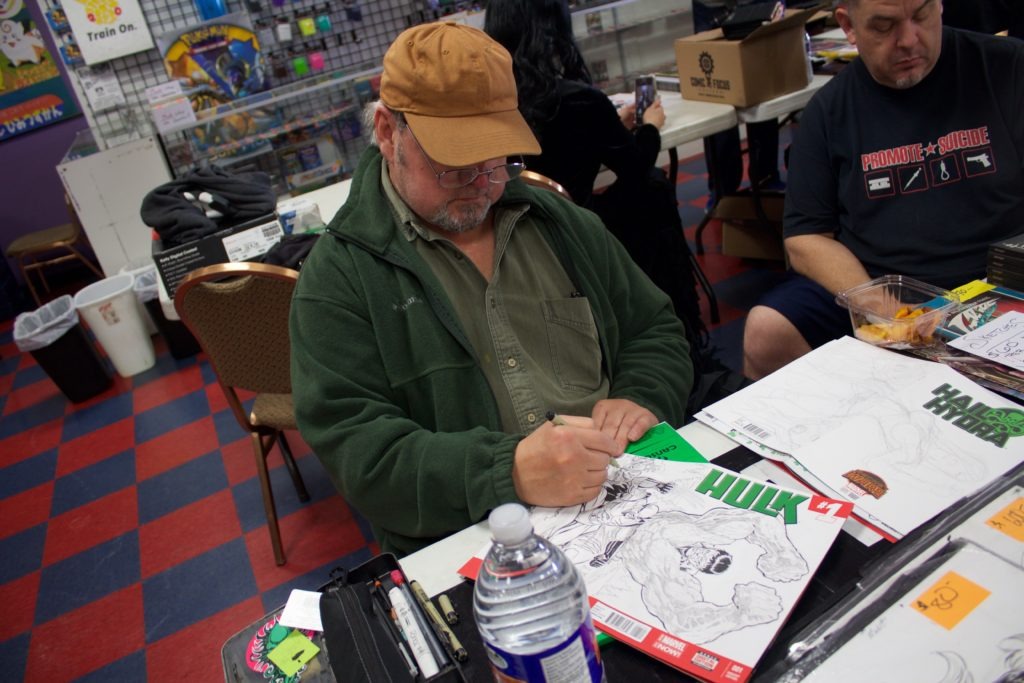 Feature:  AZ Eventure
I have said it time and again that I am a huge fan of Jesse James and his comic book store. I've been a loyal customer of his for years and have never had a bad experience. Imagine my interest when I found out that he was directly involved in a small convention by the name of AZ Eventure Con that featured full blown cosplayers, artists, writers, and more.
Not only was this a new convention, but it also took place in a Dave and Busters! For the price of an event ticket, you got so much more than just the normal convention experience. "Your ticket is INCLUSIVE of not only the event floor, charity auction and panels, but also your MEALS at Dave & Buster's, our incredible hosts! This is an intimate event that focuses on comic book creators that here by invitation." –via
The ticket prices ranged from $40 for a single day, $60 for an all weekend pass, and $250 for the VIP experience. While the single and all weekend pass prices are fair, the VIP pass price was quite the eye opener financially but, like the event itself, had far more than meets the eye. "(VIP) ticket grants you access to the AZ Eventure Con halls for both event days, includes the limited edition Joe Benitez art print, the Natali Sanders Dorothy Gale art print and limited edition Chew trade paperback as well as food at Dave and Busters, our spectacular hosts! But that's not all! As a special bonus, you will join the AZ Eventure Con guests, Chris Mowry, Bunny Page, Cara Nicole and Tom Hutchison in a round robin gaming event in the Dave and Buster's arcade for charity! Only four VIP passes are available and 100% of the ticket price goes to charity!" –via
I can hardly imagine how difficult it must be to organize an event to ensure convention goers have a great experience with so many moving parts, let alone tie in charity donations as well.
AZ Eventure Con had a great selection of vendors from comic book artists like Chad Hardin, Tim Vigil, Chris Mowry, then it transitioned into great cosplayers such as Bunny Page, AZ Powergirl, Pretty Panda, and then hey had a whole group of awesome indie comic books writers and artists.
I was able to chat with almost every vendor in there for an extended period of time in order to get a good grasp on their business. Personally, I enjoyed my interaction with Chad Hardin the most. Admittedly I had absolutely no idea who he was going in and saw him making a fantastic drawing of Harley Quinn and asked if I could take a photo. He looked at me with suspicion and questioned me on what it was for. After I explained it was for a review he reluctantly agreed. Later I talked with the vendor of the booth he was at and they informed me that Chad was the artist who does a lot of the Harley Quinn comic book art and, being a fan of the comics I naturally I died. I then proceeded to praise him for the next twenty minutes about everything he has done. He apologized for his hesitation on letting me take a photo of him and we chatted casually about being a geek. It was such a great experience that I would have probably never had at any other event due to the long lines he no doubt would normally have.
I would like to add that the original plan for the event was to be at Dave and Busters, for Saturday this was the case but for Sunday it was held at Jesse James Comic shop. I was only able to attend on Sunday. Jesse did explain that there were some issues in communication with their agreement and had to move to his shop. Despite the location change everyone was in high spirits as they greeted fans. Because I did not experience the convention at Dave and Busters on Saturday I will not be giving a review score due to my lack of information.
Overall I had such a great time at this event and hope they have it again next year. It was fresh, unique, and offered an intimate experience with some fantastic people! For more information, feel free to check out their website at http://www.azeventurecon.com/ for more information on Jesse James and his comic book shop, be sure to check him out as well!