It's been a major mainstay in the Asian gaming landscape for years, but now it looks like the US is finally beginning to cotton on to the power of the mobile gaming industry – with Samsung attempting to lead the charge
"The ultimate mobile gaming platform?"
A familiar face from Epic Games took center stage at Samsung's annual 'Galaxy Unpacked' event earlier in August. President Tim Sweeney was the only non-Samsung bod present to announce the brand new Galaxy Note 9, and talk about why avid gamers should sit up and take note. We already knew that Android would be premiering its own version of the infinitely popular Fortnite game, so it was old news when Sweeney announced its "exclusivity" on Galaxy devices (albeit for a 48-hour period only). However it was the unveiling of the Note 9 that really got the gaming world abuzz.
Allegedly "representing a real revolution for mobile gaming", the Note 9 certainly scores highly for effort. Gaming is everywhere in its marketing – although it's still definitely a mobile phone, just one that's good for gaming.The specs speak for themselves, too: 8GB of RAM, Qualcomm Snapdragon 845 processor, 6.4 inch AMOLED display, 4000mAh battery and a water-carbon "cooling system" to counteract the overheating that commonly happens during a long mobile gaming sesh.
A Billion-dollar industry
So why is the world's biggest smartphone manufacturer so interested in mobile gaming, or what it more suavely refers to as "high end gaming"? Well, it's a multi-billion dollar industry for a start. According to Newzoo's annual research, mobile will account for over 50% of 2018's whopping $138 billion global gaming revenue. Mobile games and the devices that are capable of playing them are becoming increasingly important to gamers, elevating the industry way above the former days of Candy Crush.
One of the areas of mobile gaming that has grown increasingly popular in the past few years is iGaming, and it continues to grow month after month. With poker platforms and online casinos offering all sorts of bonus codes and promotions to entice new gamers to the world of iGaming on the go, this is one industry that has really taken advantage of the versatility and instant engagement offered by mobile. So, isn't it about time that traditional video gaming powerhouses followed suit?
Where the Pros go…
Actually, they are. Boosted in no small part by the emergence of mobile gaming in the professional eSports sector. Yes, those who are responsible for transforming all those hours spent playing League of Legends in the dark into an actual competitive discipline are working their magic when it comes to mobile.
In 2017 a number of mobile-only tournaments were held throughout the world, including Supercell's King's Cup II and the ambitious Crown Championship World Finals 2017, which pulled in hundreds of thousands of viewers in total. And with the huge Chinese gaming company Tencent drumming up US interest for its mobile-only Arena of Valor game, things aren't likely to slow down anytime soon.
Samsung are just one of the many smartphone manufacturers, video game developers and even PC manufacturers that are seriously beginning to invest in mobile gaming innovation. Despite getting a bit lost in all the noise surrounding the mobiel release of Fortnite, Battlegrounds from PlayerUnkown was also successfully launched on both Android and iOS this summer.
Razer is still hard to beat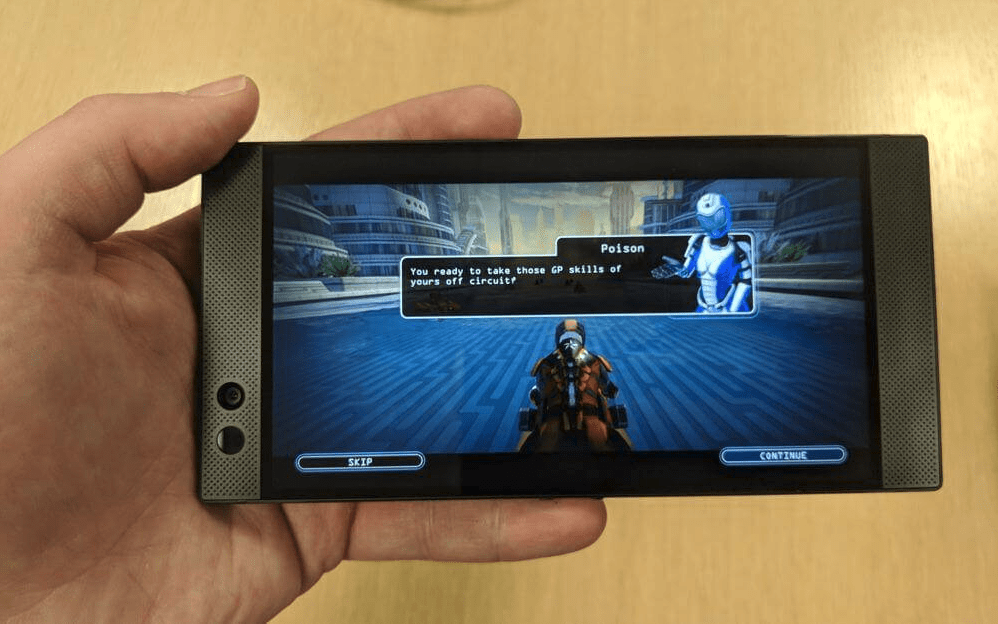 But back to the hardware. For all the ingenuity available in the Note 9 and the ASUS/Republic of Gamers offering, the ROG phone, gaming-centric mobile phones have been around for some time (although they've faded into oblivion since). Who can remember Nokia's N-Gage? This disastrously-designed device could only be played sideways, and to use it as a phone required a level of contortion beyond anyone outside of Cirque du Soleil! Then there was the Sony Xperia Play, although it fared better than the N-Gage its versatility was ultimately hindered by the limitations technology way back then in 2011.
There's one gaming phone that is still proving hard to beat, however – the Razer Phone. This 2017 flagship Android device really set the standard for what it means to be a gaming phone, and its 120Hz screen refresh rate still hasn't been matched. Combine that with its 8GB RAM, dual (front-facing, no less) Dolby speakers and a Qualcomm 835 Snapdragon chip and you have the ultimate purpose-built gaming smartphone.
There's also a reason why Razer's display is yet to be beaten by Samsung et al: Tom Moss, Director of Razer's Mobile Business Unit, explained that the company had a helping hand when it came to the software pairing needed to control the device's high refresh rate – "we have engineers who were on the original Android team at Google to get it to work." The Razer Phone 2 has been slated for a Q4 2018 release, so Samsung's still got its work cut out to top the indie model.
The Future
It really doesn't take a genius to figure out that mobile gaming is definitely here to stay. More and more titles are becoming available on mobile in the U.S and European markets, which show a marked rise in gameplay quality and user experience. Gaming phones, too, are increasing in quality as manufacturers view them as viable "flagship Android phones, which have a focus on entertainment" for their brands. And when you add the appeal of professional mobile gaming from the eSports sector into the mix, it's likely to soon start outperforming console-based gaming as the years progress.