A new Overwatch story by the name of  "Bastet,"(Check out the PDF version!) released recently by Blizzard Entertainment that features more of the backstory of one of their most iconic character: Soldier: 76. Solider 76 is known for being a hardcore, grizzled veteran, who does whatever it takes to ensure victory. What makes this particular short story fantastic is the fact that they reveal that this seasoned warrior was in love with a man named Vincent, confirming that he is gay.
It is normal for Overwatch to release short pieces of content to fans that help develop their characters such as D.VA's animated Short, Shooting Star.
It adds so much more depth to these various heroes who we spend endless hours playing in game. Solider 76 was one of the first characters released in Overwatch and not much had been released about this stoic hero other than the fact that he was one of the best and that he commanded a great deal of respect from his peers.
This is an excerpt from the story:
"Vincent… I haven't thought about him in years," Ana said. "Still keeping a candle lit for him?"
Jack shook his head. "Nothing like that."
"You've never looked in on him? You must have been curious. All the surveillance power in the world. I bet Gabe would have put a Blackwatch agent on him if you asked," Ana said.
Jack glared at her.
"Okay, touchy subject."
Jack laughed. "He got married. They're very happy. I'm happy for him."
"Vincent deserved a happier life than the one I could give him." Jack sighed. "We both knew that I could never put anything above my duty. Everything I fought for was to protect people like him… That's the sacrifice I made."
"Relationships don't work out so well for us, do they?" Ana said, unconsciously running her thumb over where her wedding ring used to be.
Overwatch is no stranger to making their characters diverse when it comes to sexuality. Two years ago in another short story 'Reflections', Tracer, who is a hero with the ability to teleport and manipulate time in a limited fashion uses her power to try to get the perfect gift for her partner, Emily. The comic is sweet, especially as we get to see just how happy the two of them are together!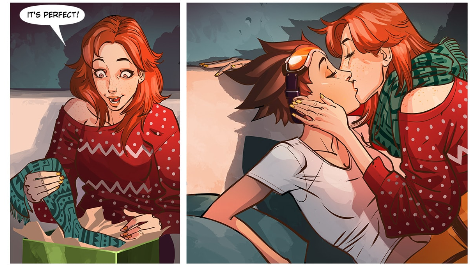 When Bastet released the internet went wild with excitement that everyone's favorite Solider was a part of the LGBTQ community! Even more so when writer Michael Chu confirmed this on Twitter!
Thanks for all the messages about "Bastet"!

Jack and Vincent were in a romantic relationship many years ago. Both identify as gay. ❤️

— Michael Chu 🎉💼 (@westofhouse) January 7, 2019
Check out these reactions for fans!
but think about it: tracer was the ideal eye candy cover girl whose ass was used to sell copies and soldier 76 is the big, call of duty inspired macho man for all those who weren't into british chicks. blizzard used traditional straight bait and then made that bait gay. genius.

— prima` ♡ 。˚❥﹫🏩💘 (@maidmeta) January 7, 2019
I proud to cosplay and support a Queer Soldier 76 @PlayOverwatch #LGBTQ pic.twitter.com/m7Tez9AlUN

— Tallsquall (@Tallsquall) January 7, 2019
Wait? People are just discovering Soldier 76 is gay? I've seen SFM vids and let me tell you, everyone be banging everyone all the time in @PlayOverwatch. If anything I'm confused how they manage time for saving the world with all that man on man on woman on woman on omnic action? pic.twitter.com/YmC5aFeYPQ

— Jesse Cox (@JesseCox) January 7, 2019
SOLDIER 76 IS OFFICIALLY A DREAM DADDY!!!! pic.twitter.com/Rg7YSCTlGG

— 💀The God of Nothing💀 (@ddeathblossom) January 7, 2019
me trying to select soldier 76 with all the other gays tonight pic.twitter.com/m3FRgo5CbN

— cardurr (@cardurr) January 7, 2019
Today is a GOOD day to yell excitedly about Soldier 76 pic.twitter.com/W6hkVwjW9B

— Cara McGee 🎁 Working (@ohcararara) January 7, 2019
This is an awesome release and we're stoked to check out what else Overwatch has in store for fans!