Webcomic: Mr. Mario!
Check out the newest webcomic by yours truly, Gumbercules!  The motivation for this particular joke came to me while filming an episode of Brostalgia and playing the Whomp's Fortress level on Super Mario 64.  When you first scale the level to the top, you are greeted by a giant cement monster who calls himself "Whomp".  Queue 3D Mario styled boss fight, wait for him to tip over, butt slam his back, repeat 2 more times, and BAM!  You get yourself a star.  What's funny about this particular boss fight is that when you first encounter him, he has some complaints about how much his kind do to build the Mushroom Kingdom from the ground up, and how they are walked all over as a result.  The best part, however, is that after you defeat him and he explodes, leaving nothing but a luminous heavenly body in his wake, you return to the level again to find that the castle they had been building before you busted in with your lust for blood and coins has been finished.  This revelation lead to the following webcomic: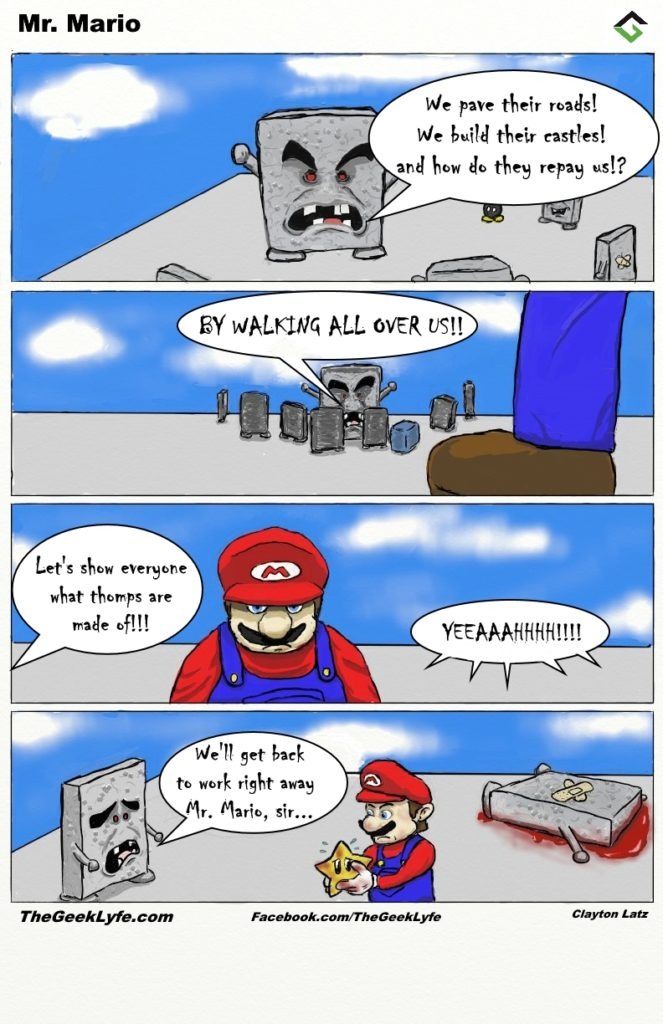 Here is the original episode of Brostalgia where we think of the joke.  Hope you enjoyed!
[embedyt] http://www.youtube.com/watch?v=zLiKWU3FyMc[/embedyt]