Hey all! Tidesiren here with another year under my belt in attending D23 Expo! Now, I've loved Disney for years, since I was old enough to enjoy the colors and moving
pictures on the television screen, so when I say it is continuously the perfect con for the Disnerd in you, I'm not kidding! 
Though this year I only attended a few hours on Sunday, as full event badges had sold out before I could get a hold of one for myself, I still feel I had my fill at D23. 
Taking place in its usual venue, D23 Expo took over the Anaheim Convention Center, the same convention center both WonderCon and BlizzCon are set in. 
Unlike last time, the convention security expanded from the entrance of the convention center building to the property entrances by the main roads surrounding it. Another change from last year was definitely the security staff. Security officers felt unreasonable this year. My friend and I were dropped off at Hall E and when we tried to pick up our badge at Will-Call, the woman standing for security said we had to go completely around the property, walk along the main road, and walk to the Stadium entrance where Will-Call ticket pickup was moved to. It was a very warm day to walk that distance so we had to call another Uber. Turns out, it was almost a mile we would have walked in 90-degree weather.
We went straight for the doors facing us but were scolded for not going around the rope first to enter the same building through open doors less than two feet in front of where we were at. Needless to say, I wasn't pleased by the extra security requirements at this years D23, especially when the ticket email said badges could be picked up at Will-Call of Hall E in the main building… where Uber took us first.
Once we got inside. I shrugged off my irritation and was immediately immersed back into the Disney magic that is D23! 
Walking in to the convention center, posters lined the doorways above the main halls. Beloved classic Disney characters side by side with favored Marvel heroes seemed to welcome us to the enchantment! Inside immediately was a garden-esque seating area where you could rest, and further in, booths of all things Disney! Walking the aisles, I noticed much more this year than in 2017. I was able to Volunteer for gift-bagging again, browsed the health and beauty product Disney now has, spoke with representatives with Disney Vacations and Disney Cruise lines, strolled through the History of Autopia exhibit, and checked out the stand-up photo ops on display for Disney's Frozen 2, coming out this November! 
One of my favorite things I was able to see was when I walked through the Imagining Tomorrow, Today exhibit! There, Disney had posters on display of all rides in the Disney parks all over the world! Both new and old, whether they were still running or not, Disney park rides had posters. It was so cool being able to see foreign adaptations of what we have here in America. To get us even more excited about what the Disney parks have to offer us, there was a whole section on what is being built and improved on too! Displays of Epcot and new additions were shown above an Epcot diorama. What I was most excited about in this section was the new and soon-to-be-improved-upon castle in Disney's Hong Kong park which will have spires and new tower additions representative of 13 of Disney's princesses! Seeing this made me want to visit Disneyland in China for sure!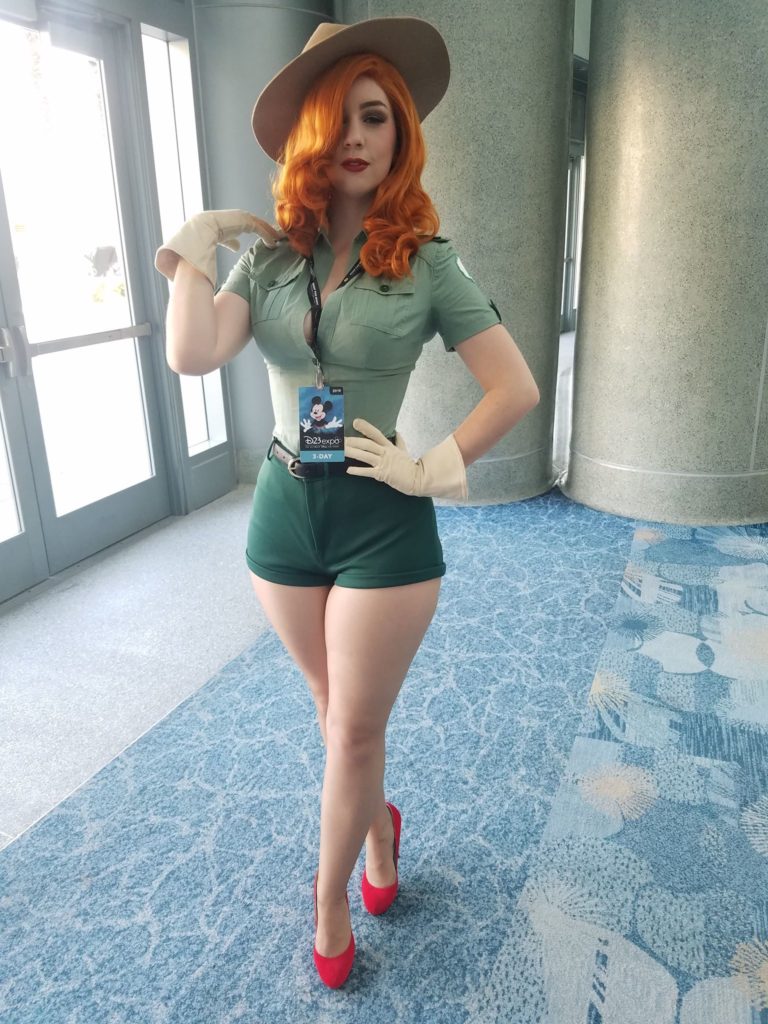 D23 Expo is the perfect place to find your Disney merch. It was incredibly difficult to keep my mind on window-shopping when all I wanted was to collect all the beautiful Disney art. Thomas Kinkade paintings, plushies, canvases, paper mache, and ironwork were all exposed toward walkways for attendees to view with one thing in common: a Disney theme! You could find Hiko Maeda, artist and sculptor of Precious Moments pieces, working on his latest piece of Ariel and Eric in a Kiss the Girl scene. I found Jelly Belly & Co. working on a canvas made of Jelly Beans creating an image of Elsa and Anna from Frozen 2. Pin booths were scattered throughout the hall and In the far right corner across from the main stage, Disney pin trading had its own corner where collectors could scavenge and swap for their next treasure! 
Disney 23 Expo also annually has no shortage of well-known names and faces who work on our beloved tales. Being D23's 30th anniversary, it was a special celebration for the convention. I spotted Margaret Kerry, the voice of Tinker Bell, mingling with fans on the convention floor, Christy Carlson Romano, the voice of Kim Possible, on a panel stage as well as in the hourly parade, Jaimie Chung, actress for Mulan in Once Upon A Time, a Cars and Toy Story crossover was on display, and panels of Disney entertainment were on stages throughout the hall. I can't imagine how much fun Friday and Saturday was! I know for a fact that Jodi Benson, who is Ariel's voice in the Little Mermaid, was in attendance for The Little Mermaid's 30th anniversary! 
Though I am half glad I stuck to the comfort of not cosplaying to be able to walk and take in everything that was D23, there was no shortage of amazing costumes. On the short day that was Sunday, I ran into Traci Hines, LifeofShel, Major Sam Cosplay, Jimmy Sherfy, Andrew Clemmons, Chelsea Gentry, and so many more along with a few local favorites in Amberskies cosplay and her babe Alyssa! Everyone was in fun costumes and looked incredible. 
Despite security being challenging and changing Will-Call pick-up without notice, missing most of the weekend, and not cosplaying, I would still say Disney 23 Expo is worth the $200 or more fans  would typically pay to attend. Three days of Disney magic and exploration only happening every two years? I won't be waiting until tickets sell out come 2021… or better yet, maybe I'll just go on a trip to Japan to attend in 2020!