Hey you guys!
Tidesiren here, and now that I am over my con crud, I wanted to tell you about my experience in Portland, Oregon while attending Wizard World Portland. I had never been to a Wizard World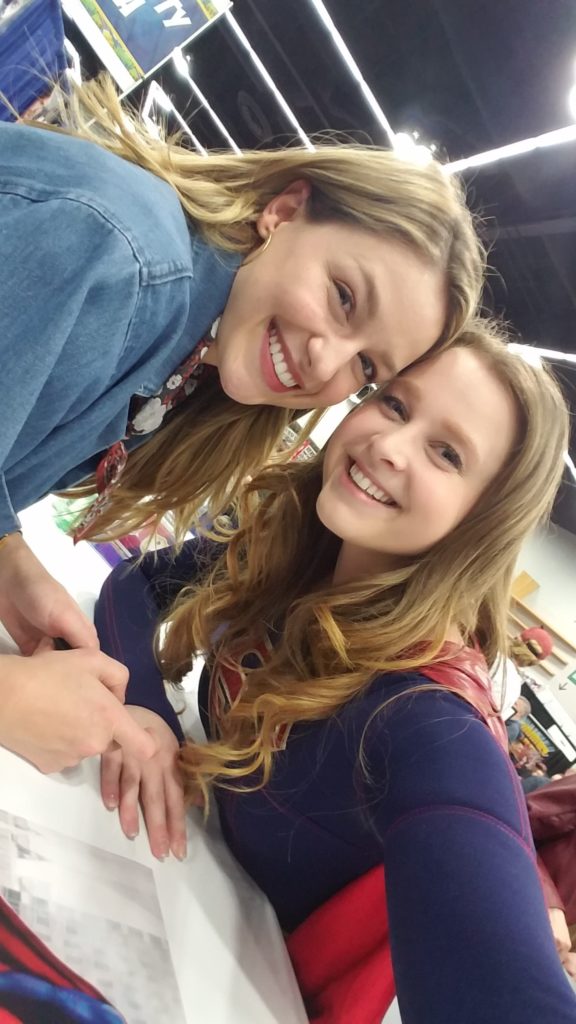 convention before, and with all the hype in the convention and cosplay community, as well as media entertainment exposure such as Heroes of Cosplay, Wizard World has made a name for itself where con-goers attend any shows they can to check out the big names brought to the show.
The moment a friend of mine informed me Melissa Benoist, the star of Supergirl, would be attending Wizard World Portland, I made it my mission to attend to meet her again. If that wasn't enough, with other big names such as Holly Marie Combs, Jason Momoa, and Tyler Hoechlin, I could tell it would be an event worth attending overall.
Taking place in the Portland Convention Center, WWPortland attracted fans from February 22nd to 24th, and took up over half the convention center. With two major ballrooms, the large vendor hall, and multiple hallways of panel rooms, WWPortland was rather sizable and kept occupants busy for the duration of the show. On an average of $35 a day, and total of $80 for the three day weekend event, the show was both affordable and worth the amount whether you wanted to attend only one day to get your fan-fix or the full show length for the complete experience.
Walking in, the security of the show was a little intense with immediate metal scanning and pat-downs, but with being thorough from the start and weapons check right next to the front doors, making sure everyone was safe inside was both sufficient and easily taken care of first thing. Employees were both knowledgeable and compassionate in whatever I needed. I would say the volunteers were the MVP's of this show, switching posts on the hour to keep everyone alert and knowing everything about what was going on at their post for their hour made navigating the convention center easy.
From security, to the left was the largest ballroom this convention had, which hosted panels with Melissa Benoist and Jason Mamoa, and to the right, you went downstairs to registration and ticket pick-up and the vendor hall and panel rooms extended down the hall from there. Immediately entering the vendor hall, you were greeted with an entertainment stage which held small performances for karaoke and local bands all day each day. Artist Alley shared the whole right side of the main hall with Cosplay Corner, containing and mixing cosplay names like Victoria Page, Christina Dark, Missy Mayhem, and local community and charity cosplay groups in with talent from both local and traveling artists. To the left and behind that stage, the guests of the convention lined rows all the way to the back of the hall where the food court and photo op tents were. The setup worked really well for everyone and was able to accommodate the masses making their way through the aisles.
[Best_Wordpress_Gallery id="454″ gal_title="Wizard World 19″]
I would definitely say the guest list of this years event had a huge impact on the turnout of attendees. Supergirl fans completely took over the convention center Saturday, the only day of the show Melissa Benoist sat at her booth for autographs and shared photo ops with admirers. And when I say her fans pretty much took over the convention, I am saying it might as well have been Supergirlcon all day Saturday. Supergirls of all ages roamed the halls and her lines wrapped down several aisles, which made it a little confusing to find the beginning. Her panel with Tyler Hoechlin was completely packed and the 45 minute duration consisted of attendees asking questions. Those question lines were so long that we ran out of time.
Buffy the Vampire Slayer and Angel had the floor for most guests of a single fandom, and with the entire cast of both, they were able to continue bringing in fans all weekend. Jason Momoa held his own as a guest with continuous and consistent lines through to the end of the weekend as well.
Though Wizard World Portland was a smaller convention event than what I am used to, with such big names in attendance and a welcoming cosplay community, it felt much more intimate than what I am used to as well. Melissa Benoist almost never attends comic cons, and the local cosplay community was so warm that I made multiple new friends and plans for future cosplays and cons. I definitely plan on attending Rose City Comic Con and I can't wait to see what Wizard World Portland has in store for us in 2020!