Before June 1993, people were generally quite happy about the prospect of never having to come face-to-face with a T-Rex while on holiday. Not that the modern holidaymaker had much cause to be terrified of the extinct creatures, of course. While some of the 1950s monster movies may have shown the odd dinosaur encounter, in retrospect, they were a bit unreal, kitschy, and not really that plausible.
Making Dinosaurs Scary Again
Then, in 1993, Jurassic Park was released: a movie that made a trope that had come to be considered worn and cheesy into something a tad more real and scary for millions of engaged moviegoers.
On Friday the 11th of May and Saturday the 12th of May, Universal Studios Hollywood will host the Jurassic Park 25th Anniversary Celebration. Fans can attend the event to pay tribute to the blockbuster film that brought our extinct friends back to life some quarter a century ago.
A Monster Franchise
The immersive event will include a private screening of the movie that started one of Hollywood's biggest franchises, at the all-new Universal Cinema at Universal CityWalk. The event will also feature after-hours access within the theme park itself, adjacent to Jurassic Park The Ride. The ride has been an attraction at the theme park ever since it opened just three years after the movie's debut. It shows off impish dinosaurs wearing havoc, with visitors screaming at the final jump while becoming excessively damp.
Fans Can't Get Enough
It isn't just the ride that has captured the imagination of fans of the franchise, with endless merchandise available online. For starters, there've been a series of books based on the films, in addition to the 1990 Michael Crichton novel that started it all. Sometimes it's easy to forget that the movie was based on an original novel. There have also been numerous video
games including Jurassic Park: The Game and the upcoming Jurassic Park Evolution. That's not counting those that have been influenced by the movie, such as Jurassic Giant, a mobile-friendly game available from CanadaCasino.net. If playing your favourite casino games on your iPhone X brings back those terrifying moments from the movie, the bonus may settle down your nerves. Still, that's a way for you to revel in dino-fun any time you want. A 25th-year event comes around only once.
VIP Treatment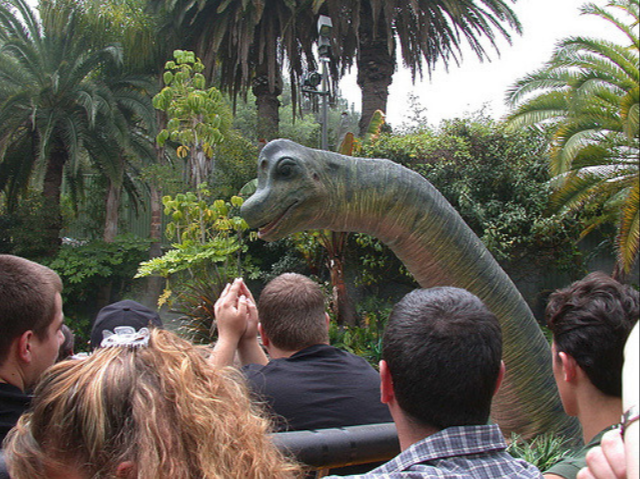 by cliff1066™
Visitors on the day will be greeted with a commemorative lanyard, along with unlimited access to the event, including the Universal Studios ride, original props, an interactive expo area, customer displays, and original dinosaur maquettes. To complement the occasion, there will be merchandise, themed food, and live entertainment. If guests really wish to enter the spirit of things, they are free to dress up as their favourite character. The first Jurassic Park 25th year event is a joint venture between Amblin Entertainment and Universal Pictures. It's a special occasion that requires a separate ticket to general admission into the park and is expected to sell out. Tickets are priced at $69, with an option to include a full day's entry to Universal Studios for $129.