LOVEBITES Interview Hyper Japan Christmas Market 2017
Hey! Cobalt here, back with the first ever interview I conducted! Many thanks to Geek Lyfe I was able to interview LoveBites back at the end of 2017, at the Christmas Market of Hyper Japan. The girls Asami (Lead Singer), Miho (Leader and Bassist), Haruna (Drummer), Mi-Ya (Guitar and Keyboard) and Midori (Guitarist) and I sat down for a chat!
Lovebites are an all female Japanese- Heavy Metal band, consisting of five girls who clearly want to let the world know they are here to take the world by storm!
Cobalt: Thank you for coming! Being that this is your first overseas venture as a band, what is it like to be able to perform in England in comparison to Japan.
      Miho: We're really Happy and excited to be able to perform! *excited giggles*
Yeah, we have been wanting to play overseas for a long time, when we started the band we were lucky for it to come so quickly, sooner than we thought so we are really happy!
C: How has London been for you?
Miho: The view and the buildings are really beautiful, compared to what we have in Japan the food is good! Especially the fish and chips!
C: We can see that your EP's artwork is very similar to a German band called Helloween, how did you come about designing it?
Miho: We are the same label as the band, so we asked the artist to design ours as well! Its really metal so we love it!
C: Awakening from Abyss was released this year, what were the main influences for the album?
Miho: I especially like the 80's metal, like Iron Maiden, and theres no Japanese all fe
male band doing that kind of music so I put that influence to our album.
C: From watching your music videos, I noticed the star shaped symbol on your drum kit, how did that come about?
Haruna: One of our friends runs a music studio and they gave the broken symbol shaped into a star as a present, so we started displaying it.
Asami: Its going to be her symbol!
C: So what are each of your personal favourites to perform live?
Haruna: Mine is Liar, its not the drumming but in between when I'm flipping the sticks!
Miho: Hammer of Wrath, track 2, its a really slashy riff!
Asami: My favourite song changes everyday, everything good!
Mi-ya: Shadowmaker. (Asami interupts with a "why?"). It's my song, so.
Midori: Shadowmaker as well, there are lots of elements including twin guitar in the song so its really fun to play.
C: So, whats the process of writing your music and the riffs?
Mi-ya: I create the riff I want and ask Midori if she wants the same, then we both make riffs to create the songs so cool. We right our own riffs but make them work together.
C:How many hours would you say you practice as a band in a week?
As a band, sadly not that much, but we should (everyone looks to each other)
be practicing every single day. Should be… (All laugh at each other)
C:  Do you have any pre-performance routines as a band or you do by yourself?
Miho: I'll refrain from Alcohol for a few days!
Mi-Ya: Red bull, lots and lots!
Haruna: Eat, a lot!
Asami: I'll get a massage the day before!
Midori: Nothing really.
C: What was the origin of the name of the band, Lovebites?
Asami: Halestorm, I love Lizzy Hale! Their song Lovebites we love.
C: Where did the name from your first album come from? Was it a long list before you decided on "Awakening from the Abyss?"
Since this was our first album we wanted to have "Awakening" to be in the title, we also wanted a metal taste then we came up with a load of words that would go with it and decided on "From the Abyss" because it worked really well!
We tried many like "steel" but yeah we decided on that!
C: The album has done really well, what do you all think of the positive response its received from the artists you said you've taken inspiration from?
Such famous people responded on the album that we actually screamed! We wanted to
make the metal sound by an all-female band and we achieved that, so we are striving for more!
C: Other than England, is there anywhere else in the world you would want or like to perform?
We would love to go anywhere we can, but if we have to chose we would go to Germany because of the famous metal festival there, also Helloween is from there so we definitely have to go there!
C: And finally, if you could tour with any metal band ever, who would it be?
Haruna: Helloween
Miho: Iron Maiden, biggest fan!
Asami: Halestorm
Mi-Ya: Metallice
Midori: Megadeath!
All: Yeah, huge dream!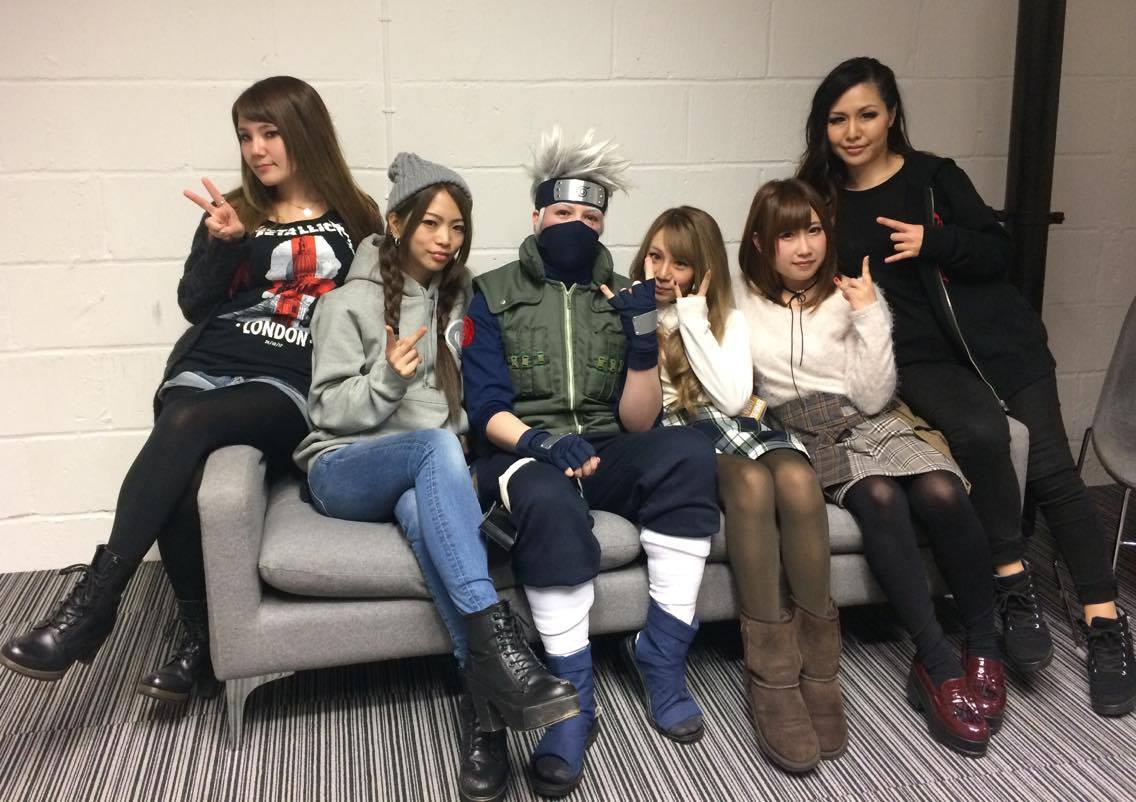 After the interview LoveBites went straight up on stage for their first ever live performance overseas! They rocked it!! Be sure to check out their epic first album, Awakening From the Abyss on Spotify and iTunes now!