Hi guys! Kathy aka Lucky Diamond Cosplay here. I had the privilege of attending ColossalCon for the first time for their 2018 show. It was my first experience at a Midwest convention, and boy do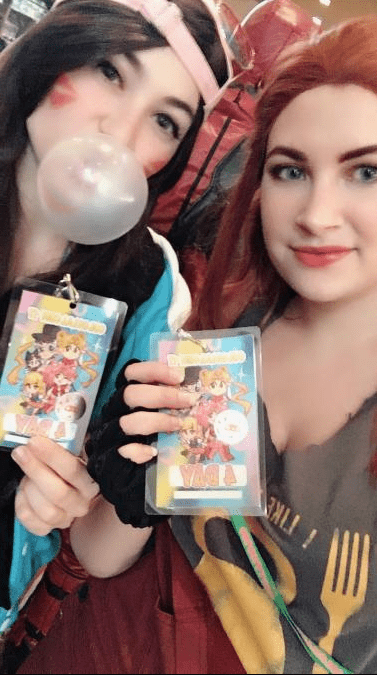 I have some things to say about my time in Sandusky, Ohio! First of all, you might be wondering, is this a convention or just a water-park? The short answer is that it is both! The Kalahari Resort is a very unique venue for an anime convention. It has a full-fledged convention center and 2 separate water parks for attendees to enjoy and get photos of their swimsuit cosplays at, as well as a giant arcade! Going into this weekend, I was really not sure what to expect. I asked myself if should pack regular cosplays or just throw some wigs and swimsuits in my bag and call it good. What I found out immediately upon arrival at the Kalahari is that both are absolutely viable options, and both are given equal attention!
Price
First of all, we have to address the badge price. Listed at $60 for pre-sale online and $70 at the door for a 4-day convention, ColossalCon offers a wide variety of panels, shows, and vending for their attendees. However, I did notice a large amount of programming catered towards the 18+ crowd, which did not affect me but did affect some of the people in my group that I attended with. The programming goes super late at Colossal compared to other conventions I have attended, with things to do well into the middle of the night. This was the first time ever I have stayed up till 2am for a panel. It was worth it, but god, I was tired and I might be getting too old for that kind of thing! One negative I would have to say about the pricing for ColossalCon is that even after a $70 badge price, to participate in the water-park activities you have to pay $35 for a daytime wristband and $25 for a nighttime wristband, unless you were lucky enough to be staying at the Kalahari. Daytime or nighttime required separate wristbands per day. We ended up trying out both, and if I have one word of advice to anyone thinking of attending Colossal in future years, it's that you can go ahead and pass up the nighttime water-park. Unless you love to swim and be really sweaty indoors, it's definitely not the place for you. Save your money for one of those $30 45oz drinks because they are pricey but actually worth it!
Staff
The staff at this convention were nice and helpful from what I experienced, but I do have a gripe with them. Because the convention is technically only in the convention center part of the resort, con staff can only be found there. If you are all the way at the entrance of the resort and you need a question answered, you better be ready to trek 15 minutes to the other side of the complex to ask it. Because half of the convention is covered by con staff and the other is covered by resort staff, I feel the need to address the Kalahari staff in this review as well. Unfortunately, I have nothing but negative things to say about my experience with the resort staff. For the entire weekend it seemed they were grossly understaffed, and while I felt for them as they frantically tried to cover the bars and reception, I couldn't help getting frustrated at the wait times for things as simple as a drink at the bar. In the main lobby bar, we waited over 45 minutes to get a drink order in, and a full hour was spent at the outside water-park bar waiting for service. This is not a new convention, and while attendance has boomed in the past few years, when they saw that their rooms were completely and utterly sold out, they should have been prepared.
Also, another huge problem I had with the Kalahari staff was their lack of professionalism. This manifested in an experience I had at the Cosplay Burlesque panel held late Friday night. We were sat in the back since we came late, and were enjoying the show when a Kalahari staff member came up and sat behind us and was making lewd remarks about the show, and then proceeded to harass myself and my friend, asking us when we were going to get up on stage and perform, and then flaunted his status as a Kalahari staff member to us. I have never had an experience like this before at a convention by a venue staff member and I was completely disgusted. Unfortunately, I wasn't able to get any info about him to report because as soon as he got the hint we were not here for any of that, he left. Brushing this off was easy enough because hey, we're on vacation, and I wasn't about to let it ruin my weekend.
Food
The Kalahari had a great system for feeding all of the con attendees with a concession stand in the convention center itself offering pizza, salads, sandwiches, and an array of drinks. There is also an actual restaurant inside the resort that was pretty delicious and was a nice getaway from the crowds of the con. In the lobby next to the restaurant, there was also a cafe and a candy shop whose lines deterred us from going to them, but they seemed to also have a nice variety of foods to offer. Unfortunately, there were no third-party food vendors from what I saw around the resort, but if you had a car there is also a mall and other restaurants just up the road from the Kalahari.
All in all, I had a blast at ColossalCon 2018. It is definitely worth the investment of taking the time and money to go out to Ohio to attend at least once. Relaxing by the pool in cosplay and meeting lots of cosplayers from all over the US who came to do nothing but just have a great weekend away was amazing. I know this convention is going to do nothing but keep growing in size and I can only hope that makes it even better for years to come.
What cons are on your bucket list?